Simba Tested: Western Mountaineering Ultralite
Simba Tested: Western Mountaineering Ultralite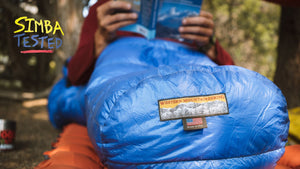 Western Mountaineering Ultralite Sleeping Bag
Reviewed on the CDT in the Summer of 2019
About six years ago I bought a 0 degree synthetic bag from The North Face that I used for car camping. At this point, I had never done any backpacking and I only needed a bag for casual camping at a campground or sleeping in the back of my truck. There were a few times that I tried to put the sleeping bag into a backpack to walk to a campsite about half a mile down a trail to a campsite. I remember it taking up almost the entire space in the backpack.
The next year, I started to make plans to hike in Sweden and Nepal. I knew that I was going to be in colder climates, so I looked into Western again for a warmer bag. I found the Ultralight and bought one. A year later I decided I wanted to hike the CDT and I was confident this was the bag I would be continuing to use.
In Sweden I faced a lot of cold rain and wind at night. There were a couple mornings where there was snow on the mountains surrounding me. I was warm every single night and I was never scared of being cold. There were some cold nights that I used some base layers to have extra warmth, but for the most part I usually slept shirtless and in underwear. This bag is warm.
I'm definitely interested in trying some of the lower temperature rated bags. The 20 degree Ultralite is perfect for summer and shoulder season hiking, but if I were to do some winter backpacking or be in the alpine in the fall, sometimes it can be in the single digits or below freezing. There are a couple bags that Western makes that I'm interested in. I might try the Versalite this fall.
All day long I recommend Western Mountaineering to anyone who asks about sleeping bags. When you buy a Western, you're investing into a better wilderness sleeping experience. The Ultralite is a perfect summer/shoulder season ultralight backpacking sleeping bag.
Want to special order a Western Ultralite or other model? 
Email us at: sales@gearthirty.com
More from Simba Tested: