Simba Tested - Altra Lone Peak 4 Hiking Shoes
Simba Tested - Altra Lone Peak 4 Hiking Shoes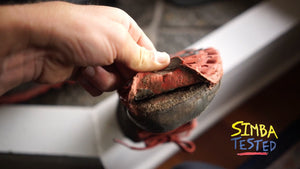 Simba Tested - Our gear guru & resident thru-hiker, Bryden Bowley (Trail Name = Simba), spent the summer of 2019 thru-hiking the Continental Divide Trail over 2,000 miles across Montana, Wyoming, Colorado, and New Mexico. While hiking, he chose 22 products to use, abuse, and give his unbiased review. Bryden's hiking resumé includes over 5,400 miles of trails since 2017 - for comparison that's about the same distance from LA to NYC and back again. 
 21 day hike across the Swedish Kungsleden trail - 270 miles
The Anna Purna Circuit in Nepal, topping out at 17,800 feet above sea level - 175 miles
2017 thru-hike of the Pacific Crest Trail where he earned his trail name "Simba" - 2,650
2019 Continental Divide Trail - 2,300 miles
Each week we'll release a new review that Bryden shot while on trail last summer - plus a follow up with his honest feedback about each product. We're proud to share Bryden's unbiased opinion about these products, and you can ask him questions directly through our Instagram Page. This is Simba Tested.
Altra - Lone Peak 4 
Size 9
An Honest Review from a Thru-Hiker
You've been using Altras for all of your thru-hiking right? 
Actually no, I started the PCT with Merrell Moabs and went through two pairs... but they sucked. 
Really?
Yes. Merrell Moabs are for the hiker that goes out a few times a year for a 2-mile loop. Definitely not ideal for thru-hiking. As soon as I was on the PCT it was obvious that most people were using Altras, almost every thru-hiker had a pair and I knew I wanted to try a pair. 
What was your first pair? 
I got a pair of Lone Peak 3.5's and I picked them up at a local shop in Mt. Shasta, California about halfway through the PCT. 
Initial Thoughts? 
Immediately as I walked out of the store I knew I had made the right choice. I remember feeling like I was walking on a cloud! 
How many pairs have you worn since then? 
Since then I've had 9 pairs of Altras, I think 5 of them were Lone Peaks and 4 pairs were Timps. I even had the Timp 1 right when it came out, bought those at Next Adventure in Portland after my first pair from Mt Shasta were worn out. 
What do you like about Altras in general? 
My favorite thing about them is the wide toebox. It helps my feet breathe and they don't feel cramped in my shoes. In the long run I think this helps a ton with blisters too. 
And what do you like Lone Peaks specifically? 
I feel like the tread on the Lone Peaks is a bit stronger than the Timps. They're a bit more aggressive and that grip adds stability on mud, slick rocks, or with river crossings. 
Let's talk about the Lone Peak 4's that you tested on the CDT. 
Okay so those were not my first pair of Lone Peak 4's, so I knew what i was getting into when I used these ones on the CDT. I had tried a pair to hike the AnnaPurna Circuit in Nepal, and I had also used the Lone Peak 4 waterproof version on the Kungsleden in Sweden. I knew what it would feel like and I knew how long it would last. 
Did they perform as you'd expected? 
Yep, they're extremely consistent. They tend to start breaking down at about 600 miles, and these started to deteriorate to the point of replacement at 800 miles.  
What wear & tear can you expect when you put 500+ miles on your shoes? 
Every single time I've used Lone Peaks I've noticed that the fabric tends to rip on the outside of the toebox, but it doesn't affect the function of the shoe at all. Also, there's a mesh spot near the arch on the inside of each shoe and that ALWAYS rips. I've got a picture to show what I mean here.
At what point do you call it quits with a single pair? 
The tread at the ball of your foot always wears down until it's completely smooth and the cushion of the shoe has been beaten down almost completely flat. At that point the shoe is done and it's time to get a fresh pair. 
Compared to other shoes you've seen hikers use on trail, would you still say that these are the most popular? 
Yeah I think Lone Peaks are probably the most popular shoe period, but Altras in general are what you see the most. 
Does everyone experience the same breakdown? 
Yep, but it's typical wear & tear on a shoe and if anything they're lasting an incredibly long time with what we put them through. These shoes are specifically built for walking on these types of surfaces, I'd be surprised to see any other regular shoe last more than 100 miles - and you'd probably have some crazy foot problems. 
Have you ever had foot issues from your hiking shoes? 
From Altras, no. From my Merrell's I did get some pretty bad foot pain in my toe, they were compressed & uncomfortable. When i had first purchased those they fit perfectly and were super comfortable, but after long days of hiking my feet felt like they were being suffocated because of the shape. 
This is where you learned about up-sizing right? 
Yeah, when I bought my first pair of Altra Lone Peaks in Shasta I realized how much my feet were expanding throughout the trail. Each day the blood is flowing to the base of your feet and they're swelling, it's a natural reaction to walking on your feet all day. When you up-size your hiking shoe it allows some extra space for your feet to swell without feeling crammed. My street size is a 9, but I ALWAYS hike in size 10.5 Altras. 
Do Altras just run a bit small? 
No, I could fit in a size 9 for sure but for thru-hiking it's really important to up-size and feet the space to swell. This isn't just me, you'll find almost every experienced thru-hiker doing this because it makes that big of a difference.
Final thoughts on the Lone Peak 4
This is a solid shoe in Altras line, I trust it and I think that most people using it for backpacking or trail running are going to love it. I just bought a brand new pair for myself this summer. 
It's a happy medium of cushion, durability, and breathability - the perfect formula for an average trail runner to a long distance backpacker.
Anything else you'd recommend besides this shoe? 
My favorite Altra shoe is actually the Timp - I have a full review on that one coming soon but basically there's more mesh and more cushion. I'm curious about Topos because they look like great trail runners as well and I've been wanting to try some, but I don't have any personal experience yet. 
Overall, I highly recommend the Lone Peak 4's and I love that shoe. Like I said earlier, I just bought myself a brand new pair that I'll be using this summer. It's a shoe that I trust and I'm excited to try the brand new 4.5's that just came out.
40% Off Men's Lone Peak 4 - Size 9
Women's Lone Peak 4 in Black: 40% OFF
Women's Lone Peak 4 in Teal: 40% OFF
More from Simba Tested:
Therm-a-rest Neoair Xlite Sleeping Pad