Simba Tested - Therm-a-rest Neo-Air X Lite
Simba Tested - Therm-a-rest Neo-Air X Lite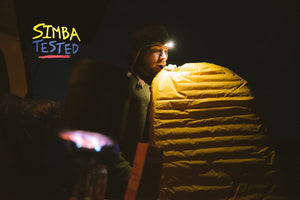 Simba Tested - Our gear guru & resident thru-hiker, Bryden Bowley (Trail Name = Simba), spent the summer of 2019 thru-hiking the Continental Divide Trail over 2,000 miles across Montana, Wyoming, Colorado, and New Mexico. While hiking, he chose 22 products to use, abuse, and give his unbiased review. Bryden's hiking resumé includes over 5,400 miles of trails since 2017 - for comparison that's about the same distance from LA to NYC and back again. 
 21 day hike across the Swedish Kungsleden trail - 270 miles
The Anna Purna Circuit in Nepal, topping out at 17,800 feet above sea level - 175 miles
2017 thru-hike of the Pacific Crest Trail where he earned his trail name "Simba" - 2,650
2019 Continental Divide Trail - 2,300 miles
Each week we'll release a new review that Bryden shot while on trail last summer - plus a follow up with his honest feedback about each product. We're proud to share Bryden's unbiased opinion about these products, and you can ask him questions directly through our Instagram Page. This is Simba Tested.
Therm-a-rest Neo-Air X Lite Sleeping Bag
An Honest review from a Thru-Hiker
What made you choose this for thru-hiking?
I was recommended a Klymit sleeping pad before I started the Pacific Crest Trail. I had never truly been backpacking before and an employee told me that those pads were what every thru-hiker used on the PCT. After buying the Klymit pad, I noticed a thru-hiker was using a Therm-A-Rest sleeping pad in a YouTube video and I did some research. Turns out, that pad weighed less and had a lifetime warranty. And the more I looked into it, the more I realized that most thru-hikers were using the Neoair Xlite pad from Therm-a-rest. It seemed like everyone was using the exact same one, and after getting coffee with another thru-hiker I learned that he used that pad on the PCT and loved it. 
I've used this model for all of my hiking over the past 3 years. That includes the PCT, Kungsleden, AnnaPurna, and CDT among others. Total miles hiked: 5,400
During that time, I've actually gone through 7 pads...
I want to start by saying I feel like I've been extremely unlucky with sleeping pads. On the PCT alone I went through 5 pads!
The first issue was from a slow leak due to a cactus that poked through my tent and into my pad in the Southern California Desert. The next two pads both had valve defects which were replaced super quickly on trail (thanks Therm-a-rest!). The weirdest one was a baffle defect that created a weird bubble, kind of like a basketball size tumor in the pad. The funny thing is that the lump was right where my head went, so I had a pillow! 
Even after dealing with some bad luck and weird defects, I still loved that pad and got another one to use after the PCT. I used that one hiking through Sweden, Nepal, Southern Utah, the Sawtooths in Idaho, Car-camping trips, and for about 1,300 miles on the CDT. Midway through the CDT I got a brand new Neoair XLite and it's the one I use right now. 
I like to stay up to date with new sleeping pads being invented by all the top brands, and for the past 3 years that I've been thru-hiking it doesn't seem like there's anything on the market that is as light or as durable as this pad. 
However, Therm-a-rest just barely released an Uberlight. My buddy hiked the CDT with 1 Uberlight pad and never had a problem with it, so I'd like to try that one out.
With proper care, you can make a sleeping pad last a lifetime. My dad literally has one Therm-a-rest pad he's been using for over 30 years. He's fought wildfires since the 80's and used the same pad the whole time with no sign of wanting a new one. 
That said, you can go pop one on the first night if you're being careless. It's really important when choosing a campsite to clear the area of anything sharp (EVEN PLANTS). Using a durable ground-sheet can help out as well.
I've seen a decent amount of hikers pop their pads while on trail, but luckily we always carry a patch kit (included with your pad). When I was near Anaconda, Montana on the CDT, I met a Canadian hiker who had just popped his MEC (Mountain Equipment Co-Op) sleeping pad. We inflated it, used the water from a lake to find the hole and patched it right up in a jiffy! It's fairly easy to fix most holes in sleeping pads, but being cautious of where you lay down for the night can save you a lot of trouble. 
Super lightweight and still radiates warmth. It's R-Value is 2.3, so it helps you stay warm during chilly nights in fall or spring. The amount of warmth you get from this pad compared to its weight is unbeatable - 5/5 in my book. 
The valve. I've seen better sleeping pad valves from Big Ages and Nemo, but those brands don't make a sleeping pad this light. Both Big Agnes and Nemo have a valve that's a pull tab plug style, whereas Therm-a-rest has a screw valve. This is really noticeable when you deflate the sleeping pad, and it takes way longer to deflate a Therm-a-rest. 
It's actually pretty funny because you know when everyone's waking up on the trail from the sound of their sleeping pad slowly deflating as they lay on it. I'm always the lazy one in the mornings so I hate hearing that sound because it means I can't sleep in any longer!
More from Simba Tested: