Simba Tested - Big Agnes Fly Creek Carbon & Tiger Wall 2 Platinum Tents
Simba Tested - Big Agnes Fly Creek Carbon & Tiger Wall 2 Platinum Tents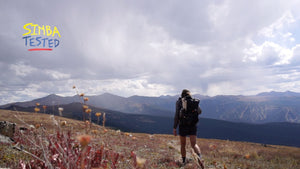 Simba Tested - Our gear guru & resident thru-hiker, Bryden Bowley (Trail Name = Simba), spent the summer of 2019 thru-hiking the Continental Divide Trail over 2,000 miles across Montana, Wyoming, Colorado, and New Mexico. While hiking, he chose 22 products to use, abuse, and give his unbiased review. Bryden's hiking resumé includes over 5,400 miles of trails since 2017 - for comparison that's about the same distance from LA to NYC and back again. 
 21 day hike across the Swedish Kungsleden trail - 270 miles
The Anna Purna Circuit in Nepal, topping out at 17,800 feet above sea level - 175 miles
2017 thru-hike of the Pacific Crest Trail where he earned his trail name "Simba" - 2,650
2019 Continental Divide Trail - 2,300 miles
Each week we'll release a new review that Bryden shot while on trail last summer - plus a follow up with his honest feedback about each product. We're proud to share Bryden's unbiased opinion about these products, and you can ask him questions directly through our Instagram Page. This is Simba Tested.
Big Agnes
Fly Creek Carbon &
What's the story on these two tents? 
I had a Z-packs hand-me-down tent from another thru-hiker (Cam Sully - Trail name: Classic). That tent had developed some micro holes and I was starting to get wet, so it was time for a new tent. I wanted to try the new Big Agnes Fly Creek Carbon Dyneema tent because it's insanely lightweight and freestanding. It honestly seemed too good to be true, and it unfortunately was. 
I picked up the Fly Creek Carbon while on the CDT in Steamboat Springs, CO. The very first night I set it up, the rain fly developed a small tear in the apex of the tent. It was maybe 2 inches long, but luckily it wasn't raining. I used some Tenacious tape & the Dyneema tape the tent comes with and repaired it. I felt like I was setting up a tent made of plastic wrap or something, it just felt super fragile.  
The very next night, I was setting up the Fly Creek Carbon and as I flexed the poles under tension to place them in the eyelets, the carbon fiber pole snapped completely in half and the tent was rendered useless. I was in the Never Summer wilderness of Colorado, with high winds, temperatures in the teens, and consistently hiking at 11,000 ft of elevation. The nearest trailhead was 50 miles away and I no longer had a usable shelter... 
I was super mad because I was honestly excited to try this tent & I was disappointed that Big Agnes would even put this product out to the public without troubleshooting and fixing this kind of thing. I think it's important to note that I was being super careful setting up the tent, it was just so much more fragile than anything I've ever used. Two major problems in the first two nights from an experienced hiker is unacceptable. 
In that moment, my anger turned to fear and the reality of the situation began to set in. What will I do if it rains? How will I keep myself dry? How will I keep my down sleeping bag safe and dry? How close am I to a town to get this resolved? What do my next few days of hiking look like because I can't keep hiking without a shelter? 
The first thing I did was start a fire and ate a big dinner to help myself stay warm. I cowboy camped for the night, using the rain fly as a blanket over my sleeping bag in case it drizzled while I was asleep. Luckily I knew the weather forecast and it wasn't supposed to rain, but weather is always unpredictable in the high mountains. 
The next day I hiked as far as I possibly could, cranking out over 30 miles so I could get as close to Grand Lake, Colorado as possible. I barely slept that night, waking up constantly to see if clouds were moving and if any rain could be rolling in. Cowboy camping in the high rockies is not very fun. 
Once I got to Grand Lake I had to hitch backwards to Steamboat Springs, CO - which happens to be the headquarters of Big Agnes. I immediately took the broken Fly Creek into the Big Agnes flagship store in downtown Steamboat to see what they could do for me - possibly make an exchange for a different tent.
What did they say?
Big Agnes was super apologetic and told me they would get something worked out. In a matter of hours, I was leaving with a new tent: The Tiger Wall UL Platinum 2-person.
Did this tent last longer than 2 nights?
YES! I ended up really liking the Tiger Wall and I was pleasantly surprised to discover that it was a really nice tent. I ended up using this about 500 miles.
Estimated life?
This tent could last a very long time. I'd say 3,000 miles minimum with proper care. It seemed like it had really solid construction and I felt like I had something I could rely on. 
Would you use it again?
Yes & No.
If I'm hiking alone, a two person tent is a little overkill for me. There's just a lot of extra space that isn't necessary, which means you're carrying more material than you need to. If you want lighten your base weight and move in the ultralight direction, a two person tent is counterproductive.
However, If I'm backpacking with someone and we are sharing a tent, or if I'm just casually going camping it's an amazing tent and I'd definitely use it again.
Favorite thing about it?
Double vestibule for sure - the two covered spaces allow for covered storage of my stinky shoes, a place to cook outside of the inner tent, and I usually designate one vestibule as a bathroom for when I wake up in the middle of the night. 
Least favorite thing about it? 
Nothing I didn't like about it, I just wish it was available in a 1-person model. 
Would you recommend this to someone else?
Yes - This is a great tent for taller people, anyone who wants a bit of extra space while backpacking, or if you might be sharing a tent this is a great choice. It's durable, lightweight, and constructed with longevity in mind.
I think that Big Agnes jumped the gun on their Fly Creek Dyneema tent, they shaved 7 ounces off of their next lightest tent but the result was lackluster and in my case, dangerous. Aside from their Dyneema series tents, they make some really solid products with durability in mind. I've used the normal Fly Creek 1 person on my PCT thru hike in 2017 and never had any issues with it. 
The Tiger Wall UL Platinum 2 person is a solid, ultralight choice for a tent. It may not be my #1 pick as a solo thru-hiker, but it's an amazing tent that deserves recognition and I stand by it. For thru-hikers and ultralight backpackers, I'd recommend the Fly Creek 1-person & Copper Spur 1-person tents. If you're looking for a two or three person tent, the Tiger Wall series is a great option. 
More from Simba Tested