Simba Tested - Altra Timp 1.5
Simba Tested - Altra Timp 1.5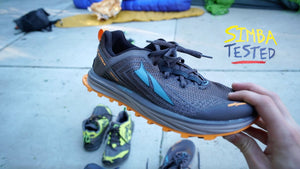 Altra - Timp 1.5
An Honest Review from a Thru-Hiker
Initially I was excited about it because it was a new design for an Altra shoe and immediately fell in love with it. It was more minimalist in its design without sacrificing any cushion. It's like they trimmed down the upper, and beefed up the cushion on the outsole. 
The Timp 1.5 doesn't vary much from the original, it's got a slightly softer midsole. The Timp 2 gets a bit of an upgrade though, they used a Quantic midsole to make the shoe even lighter and give it more cushion. It's also got a little more aggressive tread to further improve the grip on trail. 
747 miles on the CDT - from Chief Mountain in Montana to Leadore, ID.  
The first wear & tear I noticed was at the interior bend near the ball of your foot. The mesh ripped where it connects to the sole on the inside of both shoes. That was after 360 miles while I was near Helena, MT. It didn't affect anything with the shoes, this type of wear & tear is pretty common with any shoe if you're walking in them all day, every day, and creasing them in the same spot. 
So as time goes on that single rip progressively gets bigger and bigger until it's an inch or two wide and at that point the shoes are pretty much done for. The good news here is that it it takes A LOT of miles for the tear in the mesh to affect your hiking. My pair lasted up until 747 miles before I retired them. 
I honestly didn't have any other issues with this shoe - the outsole of the shoe was getting pretty worn down after 600 miles which exceeds my expectations for a thru-hiking shoe. The only reason I had to retire them at 747 miles was because the ripped mesh had grown to the point where my shoes were effectively sandals. 
It's honestly REALLY hard to think of something I don't like about these shoes, but there is one downfall I would mention about the minimalist mesh upper. If you're bushwacking or moving through a lot of brush or high grass, these shoes are more susceptable to those annoying pokey things! We all know what they are but I don't know the technical term for them, little pokers that stick into your socks and can even sting. 
The CDT isn't as much of a clean trail like the PCT or AT, so I did quite a bit of bushwacking and hiking through overgrown vegetation. I still love the mesh upper, and on a more blazed trail they're perfect. 
I love Altras and highly recommend the Timps to everyone. From day-hikes, trail running, or just walking around town they perform great and are super comfortable. I'd especially recommend them to any long distance hikers, so if you plan on putting 100+ miles on trail in a given year definitely try a pair of Timps and see for yourself. 
Men's Timp 1.5 - SOLD OUT 
More from Simba Tested: