Simba Tested: Kale VS Quinoa
Simba Tested: Kale VS Quinoa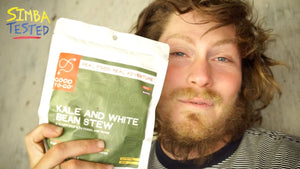 Simba Tested - Our gear guru & resident thru-hiker, Bryden Bowley (Trail Name = Simba), spent the summer of 2019 thru-hiking the Continental Divide Trail over 2,000 miles across Montana, Wyoming, Colorado, and New Mexico. While hiking, he chose 22 products to use, abuse, and give his unbiased review. Bryden's hiking resumé includes over 5,400 miles of trails since 2017 - for comparison that's about the same distance from LA to NYC and back again. 
 21 day hike across the Swedish Kungsleden trail - 270 miles
The Anna Purna Circuit in Nepal, topping out at 17,800 feet above sea level - 175 miles
2017 thru-hike of the Pacific Crest Trail where he earned his trail name "Simba" - 2,650
2019 Continental Divide Trail - 2,300 miles
Each week we'll release a new review that Bryden shot while on trail last summer - plus a follow up with his honest feedback about each product. We're proud to share Bryden's unbiased opinion about these products, and you can ask him questions directly through our
Instagram Page
. This is Simba Tested.
Good to Go: Backpacking meals that taste like real food
Kale & White Bean Stew

Let's get into the specifics of each and start with the Kale and white bean stew.

I was really excited to try this one. With the ingredients being kale, white beans, fennel, olive oil, garlic and rosemary, it sounded like a super healthy and nutritious option. It's vegan, which I'm a sucker for. I've never actually had a "kale and white bean stew" before, even as a home cooked meal, so I guess with this one I was going out on a whim and had no expectations.

Was this your first time eating Kale And White Bean Stew?
No, it wasn't. Last spring I went on a snowboarding trip in Mammoth and grabbed a couple meals from the store. This was one of the flavors I had with me, so I knew what I was getting myself into.

Yay or Nay? Did you like this one?

This one is sooooooo good. I've tried every single Good To-Go meal there is and most of them are good, but this one was top notch. I remember with my first bite thinking that the combination of the ingredients was crafted perfectly. Super tasty. Its very heavy and filling though, so don't go into this meal without an empty stomach.

Ahh, so what time of day do you think is best for this meal?

Dinner FOR SURE. Although its delicious, like I said it is heavy. Breakfast isn't even a question, but lunch you might be able to do. If you're like me, when I eat heavy foods I get pretty tired afterwards. This meal would be a great way to replenish nutrients after a long day on trail, then fall asleep from a food coma.

So what's your overall impression of this one?

Delicious, yet heavy. I love it and I will be eating it again. No packed-out spices needed, its flavor is good where it's at. If anything some parmesan cheese if you're feeling like a backcountry chef.
Next Up: Mexican Quinoa Bowl

Let's move onto the Mexican Quinoa bowl, Was this your first time eating it?
Yes it was. The description is "Butternut Squash and Black Beans in a Mole Poblano Sauce". I was unsure how squash would pair with black beans, but I was up for anything at this point because I was tired and hungry hiking in the Wyoming Great Basin. Surprisingly, it tasted ok. It wasn't what I expected. I was thinking that it would be spicy, but it wasn't at all. It was more on the sweet side.

Ahh so it's not spicy, what time of day would be best to eat this? 

Although it doesn't seem like it, I think it's best for breakfast. It was very light on the stomach and the quinoa is a great energy food to start the day. It's hard to explain, but as I was eating it I felt like it was a breakfast food or something I would eat at Christmas haha! No idea why I thought of Christmas, but I did.

Did you pack out any extra seasoning for it? Do you think it needs any extra kick?
I think it could use some extra flavoring. The sweetness of the meal is decent, but if you wanted to add some spice maybe some red chili flakes would be good, or some hot sauce packets. Most Good To-Go meals I feel don't need much added to them to make them good, but this is one that unfortunately needs something. A little more oomph.

So you've eaten a lot of the different options that Good To-Go makes, will you be eating these again?

Kale and White Bean Stew is super good and I will definitely be eating that again. I've eaten it several times off the trail on various camping trips. Its a great option if you're looking for something to share with a friend around a campfire, or if you're going to be super hungry after a long day on trail in the backcountry.
Mexican Quinoa Bowl is low on the totem pole for me. I would say it was good, but the plus side to it is that it's ingredients are healthy for you. It wouldn't be my first pick that's for sure.

More from Simba Tested:
Western Mountaineering Ultralite