Simba Tested - Rab Mythic 600 Sleeping Bag
Simba Tested - Rab Mythic 600 Sleeping Bag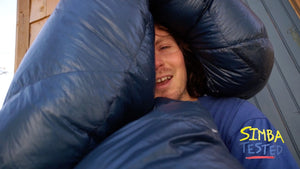 Rab Mythic 600 5-Degree Sleeping Bag
The CDT goes through extremely rugged terrain with drastic weather changes. I had just finished up hiking the Wyoming Great Basin, and as I entered into Colorado the temperatures were dropping like crazy. I was using my Western Mountaineering Ultralite, which is a 20 degree bag. I didn't think that it was going to cut it, so I was in the market for something new. I did a bit of research on Rab and found the Mythic series and went with the 600.
To put it bluntly, I wasn't warm. The next 500 miles of Colorado I was cold every night. I was wearing all of my layers too. I was disappointed. I started to think that maybe my Western Ultralite would've been the same warmth, even though it's a 20 degree bag.
Maybe use a sleeping bag liner. I know that they add quite a bit of warmth. I don't carry one and I'm starting to think that maybe I should next time I'm hiking in cold temps.
Colorado temps in October are cold to begin with, but in the alpine it gets soooo cold. It's basically winter. Some of nights out there were in the single digits and I felt like a popsicle! Several times out there I would begin setting up my tent, and before I was done the water had completely frozen in my water bottles... So maybe take all of this with a grain of salt, because I put this bag to the absolute limit and it would do just fine in a more casual setting. 
More from Simba Tested: