Simba Tested: Saxx Underwear
Simba Tested: Saxx Underwear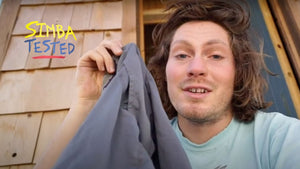 Simba Tested - Our gear guru & resident thru-hiker, Bryden Bowley (Trail Name = Simba), spent the summer of 2019 thru-hiking the Continental Divide Trail over 2,000 miles across Montana, Wyoming, Colorado, and New Mexico. While hiking, he chose 22 products to use, abuse, and give his unbiased review. Bryden's hiking resumé includes over 5,400 miles of trails since 2017 - for comparison that's about the same distance from LA to NYC and back again. 
 21 day hike across the Swedish Kungsleden trail - 270 miles
The Anna Purna Circuit in Nepal, topping out at 17,800 feet above sea level - 175 miles
2017 thru-hike of the Pacific Crest Trail where he earned his trail name "Simba" - 2,650
2019 Continental Divide Trail - 2,300 miles
Each week we'll release a new review that Bryden shot while on trail last summer - plus a follow up with his honest feedback about each product. We're proud to share Bryden's unbiased opinion about these products, and you can ask him questions directly through our
Instagram Page
. This is Simba Tested.
Saxx Underwear Quest 2.0



What made you this underwear for thru-hiking?
This might be TMI, but chaffing has always been my worst enemy when it comes to thru-hiking. When I hiked the PCT in 2017, I used a pair of anti microbial Exofficio underwear. I liked them a lot and I didn't have any problems with them, but I had never thought that trying out different underwear might solve the problem of chaffing until I came across Saxx underwear in Gear:30. The inner "pouch" looked like something that might help with my chaffing problem, so I thought I would give them a try.
How did they feel when you first put them on?
They felt form-fitting to my legs and butt. Definitely a "next to skin" feeling. Not really so tight that it was uncomfortable, but just snug enough. Really comfortable! I was excited about them.
How did they feel after your first day hiking in them? Did they take some getting used to?
In my opinion, most hiking clothing I get used to hiking in pretty quickly. These did not take long to get used to at all. After a few miles in the underwear I wasn't even thinking about them anymore because they were so comfortable. The only time you notice or feel the pouch section of the underwear is when you put them on, but while you're hiking you don't feel a thing.
Did they solve your chaffing problem?
Yes, almost entirely. I rarely chaffed after switching to this underwear. I will say though that on bigger mile days, chaffing for me is inevitable. There were days where I pushed a lot of miles to get to town and towards the end of the day I started chaffing, but the amount of times that that happened were few and far between from what I was used to.
How long do you think these underwear would last?
The pair I used I've hiked with for almost 1,400 miles. They are still in great shape, and I'll be hiking with them this summer. In the butt area it is wearing out though, so it might rip on me pretty soon. I'm guessing I'll get another 500 miles out of them before I replace them.
Would you use it again?
Oh ya. This is great underwear and I don't think I'll be trying other underwear anytime soon.
Would you recommend this to someone else?
Absolutely. If you chaff while hiking like I do, I would definitely try this underwear. This underwear is so great and I'm going to continue to use it.
More from Simba Tested:
Olicamp Ion Micro Titanium Stove
Therm-a-rest Neoair Xlite Sleeping Pad