Simba Tested - Nemo Hornet
Simba Tested - Nemo Hornet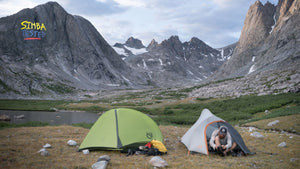 Simba Tested - Our gear guru & resident thru-hiker, Bryden Bowley (Trail Name = Simba), spent the summer of 2019 thru-hiking the Continental Divide Trail over 2,000 miles across Montana, Wyoming, Colorado, and New Mexico. While hiking, he chose 22 products to use, abuse, and give his unbiased review. Bryden's hiking resumé includes over 5,400 miles of trails since 2017 - for comparison that's about the same distance from LA to NYC and back again. 
 21 day hike across the Swedish Kungsleden trail - 270 miles
The Anna Purna Circuit in Nepal, topping out at 17,800 feet above sea level - 175 miles
2017 thru-hike of the Pacific Crest Trail where he earned his trail name "Simba" - 2,650
2019 Continental Divide Trail - 2,300 miles
Each week we'll release a new review that Bryden shot while on trail last summer - plus a follow up with his honest feedback about each product. We're proud to share Bryden's unbiased opinion about these products, and you can ask him questions directly through our
Instagram Page
. This is Simba Tested.
Nemo Hornet
Give us the story on this tent, why did you choose it?
So three years ago I thru-hiked the Pacific Crest Trail. It was my first backpacking trip. I had done a lot research on gear on the internet before hand, but honestly going out and using the the product first hand in the wilderness was the best way to figure out what actually worked and didn't work for me. I used a Big Agnes Fly Creek 1p for my PCT thru-hike, and at the end of the hike I decided I wanted to try something different.
I bought an old Zpacks tent from another thru-hiker and I used it for some short trips on the PCT, in the Sawtooths, and on my Kungsleden hike in Sweden. I love that tent, but its definitely got some leaks happening, which was not good.
I knew going into a CDT thru-hike that I wanted a freestanding 1-person tent with a side entry that was under 2lbs. Gotta keep that base weight down, ya know? With a quick look around on the various brands that GEAR:30 sells, I found the Nemo Hornet.
Badabing badaboom, I wanted to try it.

What was your first impression when you set it up?
The first thing I thought was it was super easy and quick to set up. The poles are a classic triangular assembly to the inner tent and then you clip upwards to the poles within seconds. The rainfly attaches with two clips at the front of the tent and the base has guidelines to loop into the bottom stakes. It sets up so quick. I remember thinking that it's a great tent for quick emergency set up in a storm.

What would you say the estimated life of this tent would be?
This tent is made up of mostly sil nylon (I believe) and mesh. Nylon is an extremely durable material until it is punctured. If you're super particular about where you set up your tent and the ground you set it up on, the tent could last your whole life if you want it to. I used mine for about 1,800 miles on the CDT and if you looked at it you would think its just a little bit dirty, for obvious reasons. It's a very durable tent. 
I did a few repairs on the rainfly but that was only because it had snagged a branch during set up. Be careful with the tent and you should be able to make it last a long time.
What's your favorite thing about it?
I would say the easy set up, the spacious side-entry vestibule, and the amount of space on the inside. There's so much about this tent that I love.
What's your least favorite thing about it?
I'm a little confused about the design of the rainfly near the ground where your head would be. It's tapered up with this weird curve. I don't know why it does that, but due to the taper it makes for lest shielding from rain splashing up off the ground. In a heavy rain the exposed part of the inner tent typically would be wet. I never got wet and I always felt like the tent protected me, but this was just something weird that I noticed. I hope they change this in future models.

Will you use this tent again on future backpacking trips?
Yes. As of now it's my go-to tent. Theres some other tents that I'm interested in trying, like the Hilleberg Enan, Big Agnes Copper Spur, or some stuff from Zpacks, but as for a free standing tent only weighing 1lb 7oz, its super solid. I love this tent.
Would you recommend this tent to someone else?
Absolutely. It's a jack-of-all-trades tent. Backpacking, casual camping, a perfect tent to throw in the back of your car for a road trip, hunting, or even bike packing. My friend chase used it on his bike packing trip last month and he loved it. What you are getting for the price that this tent is, it's so worth it.
More from Simba Tested:
Olicamp Ion Micro Titanium Stove
Therm-a-rest Neoair Xlite Sleeping Pad