Simba Tested - GOOD TO GO Meals: Thai Curry vs Vegetable Korma
Simba Tested - GOOD TO GO Meals: Thai Curry vs Vegetable Korma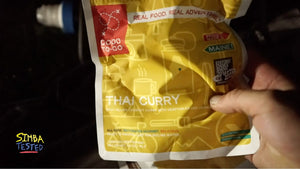 Simba Tested - Our gear guru & resident thru-hiker, Bryden Bowley (Trail Name = Simba), spent the summer of 2019 thru-hiking the Continental Divide Trail over 2,000 miles across Montana, Wyoming, Colorado, and New Mexico. While hiking, he chose 22 products to use, abuse, and give his unbiased review. Bryden's hiking resumé includes over 5,400 miles of trails since 2017 - for comparison that's about the same distance from LA to NYC and back again. 
 21 day hike across the Swedish Kungsleden trail - 270 miles
The Anna Purna Circuit in Nepal, topping out at 17,800 feet above sea level - 175 miles
2017 thru-hike of the Pacific Crest Trail where he earned his trail name "Simba" - 2,650
2019 Continental Divide Trail - 2,300 miles
Each week we'll release a new review that Bryden shot while on trail last summer - plus a follow up with his honest feedback about each product. We're proud to share Bryden's unbiased opinion about these products, and you can ask him questions directly through our
Instagram Page
. This is Simba Tested.
GOOD TO-GO: 

Backpacking meals that taste like real food. 
Thai Curry vs Vegetable Korma 
First of all, have you eaten both of these backpacking meals before?
Nope, this was my first time having both of them and I was excited. Curry is my favorite type of food, especially Indian style curry. I probably get Indian take-out once or twice a week when I'm at home. 
What's your go-to curry order?
Vegetable tikka masala for sure! Shoutout to Sitara India on 36th street in Ogden.
So you prefer the Indian style curry, what's the big difference to you in Thai vs Indian curries?
In my personal experience the Indian curry tends to be more of a creamy stew, and thai curries are more soupy and made with coconut milk. Flavor wise, there are different spices used in each because of the different regions they're derived from. Masala is particular to the Indian style.
Did the dehydrated backpacking version taste pretty good?
Yes! A lot of times eating dehydrated meals I feel like I'm eating astronaut food haha! These two specifically tasted good enough to pass as take-out rather than freeze dried. You don't want to have a high expectation with your dehydrated meal in the backcountry because they're usually not that good, but these two curries were surprisingly good!
Let's get into the specifics of each. Quick review of the Thai Curry:
It's a bit spicier than I expected, but not too spicy. It's a yellow curry packed with flavor - it's got jasmine rice, broccoli, cauliflower, peas, and green beans. I really liked the green beans and peas because they accented the yellow curry. It's so good!


Did you add anything to this one?
Nope. Didn't need to add any spices to this one, most Good To Go meals are seasoned well to begin with you usually don't need to add extra spices to them.
Final thoughts on the Thai Curry?
This would be one of my first picks to eat again from the Good To Go lineup.
Moving on to the Vegetable Korma, first impression & thoughts?
The Korma was not as spicy as I expected. It's hearty and nutritious - there's a LOT of vegetables: This one is filled with carrots, green beans, and sweet peas. I felt like there was more than that honestly but it's just packed full... Yup, the ingredients list shows a bit more: chickpeas, tomatoes, onions, and shredded coconut. 
This was one of the most nutritious and filling meals I've ever had from Good to Go. The flavor was a nice sweet spice, I believe the sweetness comes from yogurt braised veggies. It's creamy and feels like you're eating a thick stew or chili, definitely not a soup. Definitely a chili consistency.


. 
Did you add any spices or want extra flavor?
Nope, once again this one is REALLY flavorful just the way that it is. As far as spice goes, you could add some red chili flakes to kick this one up a notch. A lot of hikers pack out turmeric powder to add to their meals for a curry spice, but turmeric is known to be anti-inflammatory so people commonly add it to their dinners to help them recover while on trail. I would recommend tasting this one first before adding anything, I had turmeric with me on trail but I felt like this one didn't need it.
Final thoughts on the Indian Vegetable Korma?
This is without a doubt my favorite backpacking meal. Period.
So in a showdown between these two curries, your choice is the korma?
Yeah, at the end of a long day in the backcountry your body is craving nutrients to rebuild the muscle that you've been working all day long. I felt like the Korma was packed full of essential nutrients that I needed to feel fresh and ready for the next day of hiking. Also, along with it being super nutritious it was really filling, more so than the Thai curry.
So even though I prefer Indian style curries, it wasn't the flavor alone that makes me prefer it to the Thai curry. Both meals taste amazing, but I think the Korma has more bang for your buck. I'd recommend taking both of these on a backpacking trip and trying them out for yourself.
More from Simba Tested:
Olicamp Ion Micro Titanium Stove
Therm-a-rest Neoair Xlite Sleeping Pad