Simba Tested - Olicamp Ion Micro Stove
Simba Tested - Olicamp Ion Micro Stove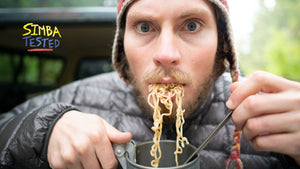 Simba Tested - Our gear guru & resident thru-hiker, Bryden Bowley (Trail Name = Simba), spent the summer of 2019 thru-hiking the Continental Divide Trail over 2,000 miles across Montana, Wyoming, Colorado, and New Mexico. While hiking, he chose 22 products to use, abuse, and give his unbiased review. Bryden's hiking resumé includes over 5,400 miles of trails since 2017 - for comparison that's about the same distance from LA to NYC and back again. 
 21 day hike across the Swedish Kungsleden trail - 270 miles
The Anna Purna Circuit in Nepal, topping out at 17,800 feet above sea level - 175 miles
2017 thru-hike of the Pacific Crest Trail where he earned his trail name "Simba" - 2,650
2019 Continental Divide Trail - 2,300 miles
Each week we'll release a new review that Bryden shot while on trail last summer - plus a follow up with his honest feedback about each product. We're proud to share Bryden's unbiased opinion about these products, and you can ask him questions directly through our
Instagram Page
. This is Simba Tested.
Olicamp Ion Micro Titanium Stove
How many different stoves have you used in your hiking?
My first backcountry cooking system was a Jetboil, I got the lightest weight model that you can buy and used it on the entire Pacific Crest Trail. It was a great entry level stove for what I was doing, but by the end of the PCT I realized I wanted a space saver type of stove that I could use with multiple different pots. With a Jetboil stove system you can't use anything but a Jetboil pot. There are two drawbacks to this: First, they're voluptuous and on the heavier side of backpacking stoves. And secondly, they aren't as versatile as other backpacking stoves. With Olicamp or MSR you can easily swap out a different pot, pan, mug, etc. So right before I went to Sweden I picked up an
MSR PocketRocket
.
Why did you choose the Pocketrocket?
I knew that they were a solid ultralight option, I picked it up in a combo pack called the Soloist from GEAR:30 actually! I had heard of that one and knew it would be an upgrade from the Jetboil I had been using. I really like that stove! 
And what brought you to the Olicamp Ion Micro?
So Going into the CDT I got pretty obsessed with cutting as much weight as possible from my kit. I was choosing specific ultralight gear to replace items that I could shave some weight. Ounce by ounce I trimmed my pack down almost 3 pounds, my base weight ended up being 8.5 pounds for the CDT.
The Olicamp Ion Micro weighs 1.5oz and it's like half the size of an MSR PocketRocket. It doesn't sacrifice very much power output and saves both weight and space in my pack, so I was really excited to try it. The first night that I used it I knew that it was the right decision. I made a Knorr Rice Sides dinner and it cooked in almost exactly the same amount of time as I was used to with the MSR stove.
What were your impressions on the CDT?
It's honestly a really amazing piece of equipment - my cooking ability out in the backcountry wasn't sacrificed at all with this stove, and I was really happy with the weight savings. The Ion Micro is built out of titanium, so you know it's both super light and going to last a long time - I never once questioned the construction of the stove. It doesn't feel fragile for being so tiny.
If you could change anything about this stove, what would it be?
I wouldn't change anything about the stove, but I found that I could improve how fast I cook something using various types of pots. The idea is to maximize efficiency and retain as much heat as possible to your cooking pot. Jetboil does this extremely well, and Olicamp makes a screen type device that keeps the flame concentrated and helps you cook about 40 percent faster. It's called the Xcelerator Transfer System and comes on their XTS model pots. Your stove is only half of your cooking system in the backcountry, and sometimes people forget how important the right cooking pot actually is. 
At the end of the day, I found that I preferred weight savings over cooking efficiency and used a Snowpeak Pot for the CDT. The reason I did this is simple, a Jetboil or similar cooking stove weighs anywhere from 12-16oz. My cooking setup on the CDT was 5 ounces, stove and pot. I knew I would be losing a little bit of cooking power, but I wasn't too concerned with how fast I was cooking anyway.
It's hard to imagine just how small and lightweight these stoves are until you see one in person. 
It's insane how small they are. And it's funny too because there are a bunch of companies that have been ripping off the Olicamp design and selling "ultralight stoves" on Amazon. They're super cheap, like under $20, and I actually know several people who tried them out on the trail. Every single one of them said "THIS SUCKS!" Apparently they felt like they were super flimsy, had bad power output, and didn't even work that well. 
Friends don't let friends buy backpacking gear on Amazon!


So who would you recommend the Ion Micro to?
I'd recommend this stove to all backpackers, entry level to advanced, who are looking to lighten up their base weight. The functionality is basically the same as other backpacking stoves, it's a very comparable price, and it's WAY more durable than the ripoff designs floating around on Amazon. 
If you're casually car camping and not concerned about weight, you probably don't need this tiny stove. Those situations are better off with a Jetboil, MSR, or even an old school Coleman double burner. But for backpackers, this is an amazing pick and it gets the job done. 

More from Simba Tested:
Therm-a-rest Neoair Xlite Sleeping Pad