Winter Outlook 2021 - Reservations & Restrictions at Utah Resorts
Winter Outlook 2021 - Reservations & Restrictions at Utah Resorts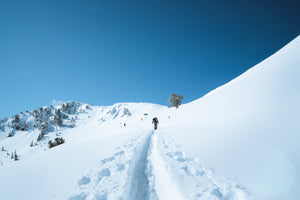 The ski industry across the United States shut down abruptly this past spring. Almost instantaneously, most U.S. resorts ceased operations to help flatten the curve of the Covid-19 virus. While we missed out on a lot of spring skiing, the backcountry remained open, and a few resorts even permitted uphill travel.
Now, just two months from Opening Day, we're beginning to hear what policies our Wasatch area resorts plan to enforce during the upcoming ski season. Rumors this summer on different strategies ranged from: Social Distancing Liftlines, Reservation Systems, Daily Capacity Limits, Limited Ticket Sales, Every-Other-Gondola Enforcement, Abolishment of the Singles Line, etc.
Simply put - 2021 will be a year like none other for the ski industry.
Below we outline the evolving new policies from Solitude, Powder Mountain, Nordic Valley, Snowbasin, and Vail Resorts so you're armed with as much COVID info as possible heading in to this peculiar season.
Snowbasin
From Snowbasin:
"Snowbasin will not be implementing a reservation requirement for Snowbasin season pass holders.  Instead, our aim is to mitigate large gatherings in bottleneck areas, including lodges, the base area and lifts. 
To ensure a positive and safe ski experience we will carefully monitor volume during peak periods. During some holidays and weekends, we may need to implement overall volume restrictions."

Additional Info:
Social distancing enforced in lift lines.
Face coverings required in public spaces.
Family and familiar parties on gondolas together.
Limited (6) tram space.
Wildcat Parking Lot will be OPEN all season.
More Info on Snowbasin's 2021 Resort Plan: 
https://www.snowbasin.com/2020-21-winter-season 

Powder Mountain
From Powder Mountain:
"Recreating at 9,000ft of elevation, on over 8,400 acres of skiable terrain is most likely the best place to enjoy a winter vacation. To provide a safe and healthy environment, Powder Mountain Resort will operate between 3 different scenarios to provide seamless transitions when guidelines and policies change at a municipal, county, state and/or federal level."
As many of us know, Powder Mountain enforces a daily limit on lift tickets, which in 2021 you can expect to be lower than normal.
All guests over 3 years of age are required to wear masks in lodges, while waiting in lift lines, while riding chair lifts, shuttles or snow cats, and in any area where maintaining 6' of separation between yourself and unrelated guests is not possible.
Tickets: Yellow & Red Phases require online purchase of tickets.
Dining: Yellow Phase allows for 50% capacity within lodges, Red Phase will close lodges with the exception of metered flow in and out of the bathrooms. During Red Phase, food is still available to be ordered online and picked up at to-go windows.
Shuttles: Limited capacity, especially for Powder Country. No shuttle service for Powder Country during Red Phase of operation, the area will be "Ski & Skin" only depending on conditions.
Cat Skiing: Open Air Snowcat Decks will operate at 50% during Yellow & Red Phases. 100% capacity in Green Phase. Single ride Cat skiing tickets available online and validated at pick-up area. 
 More Info on Powder Mountain:
https://www.powdermountain.com/winter2021
Nordic Valley Resort
Unlike other resorts in the area, Nordic has not explicitly expressed their plans for changing operations due to Covid-19. However, they have made huge changes going into the season. Most notably, Nordic is in the process of an overall resort expansion, and the 2021 season will feature a brand new chairlift nearly tripling their skiable acreage and adding up to 40 new runs. Tickets and season passes will see an increase: day tickets will jump to $75, while adult season passes range from $349-$1199
 More Info on Nordic Valley:

Solitude Resort
All guests and staff are required to wear a face covering properly fitted over the nose and mouth when indoors or when appropriate physical distancing is not possible.
Guests who forgot to bring a mask or appropriate face covering will be provided one by Solitude.
Employee uniforms now include protective gear appropriate to each team member's duties, environment, and interactions with others.
Indoor facilities, public restrooms, guest shuttles, and staff vans are being cleaned more frequently, including disinfection with electrostatic sprayers.
Touchless faucets, soap dispensers, and paper towel dispensers have been added to all public restrooms.
Hand sanitizer stations have been added in strategic locations throughout the resort.
Temporary public restrooms have been added at the Moonbeam base area to reduce queues.
Plexiglass dividers have been installed at points of sale.
Signage at the resort aids in directing guests and reinforcing safety protocols for guests and employees.
More Info from Solitude Resort:

Park City Resort (Vail Resorts)
Pass holders will be required to make a reservation before arriving at the mountain.
Throughout the season,

 

pass holders will be able to make as many week-of reservations as their pass type and availability allow. 
The early season will be reserved for pass holders only.

 

We will not sell lift tickets until Dec. 8. 
In addition to week-of reservations,

 

we will also be providing pass holders with the opportunity to book up to seven Priority Reservation Days

 

for the core season (Dec. 8-April 4), or as many days of access as they have on their pass if less than seven. The booking window for Priority Reservation Days will open Nov. 6 and will be exclusive to pass holders until Dec. 7. 
More Info on Park City's health & safety guidelines:

Brighton Resort
From Brighton Resort:
"These are unprecedented times. Brighton will be working in accordance with the CDC and the Utah Department of Health to make sure Brighton stays safe for guests and staff alike." 
Stay tuned for information on Brighton's guidelines here:
https://brightonresort.com/covid-19?
Snowbird Resort
Screen employees daily for COVID-19 symptoms before starting their shift and ask them to stay home if they are feeling ill or have been exposed to someone with the illness.
Require all employees to wear a face mask at all times while on the property, regardless of position, and gloves where appropriate.
Allow employees to work from home if appropriate.
Install plexiglass barriers between guests and employees where possible, such as at front desks, restaurants and shops.
Clean and disinfect high-touch surfaces frequently and provide hand sanitizing stations throughout the resort.
Implement physical distancing measures in waiting lines and other similar areas of the resort.
Reserve the right to limit the number of guests/participants in any area of the resort as needed.
Relax cancellation policies to encourage guests who don't feel well to stay home. 
More info on Snowbird's Winter 2021 plan will be available soon:

Step Into the Backcountry
Feeling uncertain about your local resort this season? It may be the best time to get set up with a backcountry touring setup and start exploring beyond the resort area boundaries. Please be safe this season - proper gear and training is an absolute must have for anyone venturing into the backcountry. If you are in need of gear for backcountry travel, we suggest starting early because products are already selling fast. 
Utah Avalanche Center
https://utahavalanchecenter.org/
Wasatch Snow Forecast

https://opensnow.com/dailysnow/utah
American Avalanche Institute
https://www.americanavalancheinstitute.com/
Shop Ski, Snowboard, and Backcountry Equipment at GEAR:30
https://gearthirty.com/collections/skiing-snowboarding