How to Wash a Down Sleeping Bag
How to Wash a Down Sleeping Bag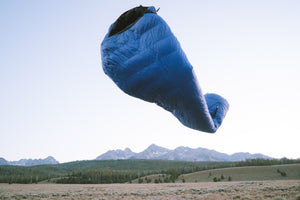 After long periods of use, your down sleeping bag is due for a good cleaning. Our expert, Bryden "Simba" Bowley, takes you though the entire process while strictly following guidelines from Western Mountaineering. 
We recommend Nikwax Down Wash Direct to wash your down sleeping bags or jackets. 
GEAR:30 - Nikwax Down Wash Direct
From Western Mountaineering:
The best way is to hand wash it in a bath tub or you can use a front loading washing machine. Never use a top loading or agitator machine as this can damage the baffle construction.
Only use a soap especially prepared for down products. Dry cleaning is not recommended since the solvents can strip away natural oils contained in the down.
When you hand wash, fill the tub with warm water, add down soap and put the bag in the tub. A tip here is to keep your bag in its stuff sack and put the whole thing underwater. That way air has already been forced out of the bag and you won't have to fight air filled baffles floating to the surface.
A Gore Windstopper bag should first be turned inside out before being put into the tub. Carefully pull the bag from its stuff sack and gently knead the soapy water through the bag.
It may be necessary to change the soapy water more than once, but don't over do it. When you are satisfied that your bag is clean be prepared to rinse it with clear water several times.
It is important that all of the soap is removed from the down before it is dried. If in doubt rinse again; five or more rinses are not uncommon. Do not wring water from your sleeping bag, instead drain the tub and then roll the bag up tightly and carefully to remove all of the water.    
Use both hands (and caution) when picking the sleeping bag up, as it may be heavy from any water still trapped inside the baffle chambers.   
A washing machine that will allow you to select additional spin cycles will remove more water and save dryer time. Find a large dryer with good heat control, and set to low heat.
Be sure there are no nicks, burrs, or other sharp items inside the dryer that may damage the shell fabric on your bag. Feel around inside the dryer with your hand to be certain.
Once you begin drying, watch for hot spots on the dryer drum that could melt the nylon shell. If in doubt use the no heat setting.
A couple of clean tennis balls tossed in with the bag will help break up clumps of down and give you something to look at. Be careful! Don't just tumble your bag till it feels dry, that may not be enough.
Carefully feel the down insulation. If you still feel lumps, no matter how small, then your down is still wet!
Break a twenty and add more quarters. It may take two or more hours depending on your bag, but you will have a clean sleeping bag back to its original loft.
When you choose high quality down, you are getting a better warmth to weight ratio, a much more packable piece of gear, and a more environmentally friendly product. We HIGHLY recommend Western Mountaineering sleeping bags and RAB or Patagonia insulated jackets. These are pieces that will last a lifetime if properly cared for, from brands you know and trust.