Introducing Traverse: Vintage Outdoor Clothing With a Purpose
Introducing Traverse: Vintage Outdoor Clothing With a Purpose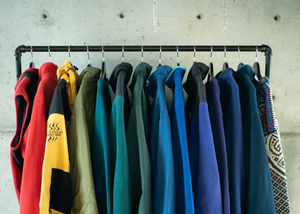 The first Traverse collection of curated vintage and used outdoor clothing will be available inside GEAR:30 starting November 12th at 5:00 PM. Follow @traverse_ogden on Instagram for updates and information on future collections.
-
Traverse is an attempt to spread a message.
It's a purpose.
It's an understanding.
It's a call to action.
Whether hiking all day in foul weather or standing in the cold for 10 hours filming snowboarding, I spend most of my time outdoors. I've adopted an appreciation for quality outdoor clothing. 
The kicker? I don't buy new.
 

Certain designs and aesthetics have impacted outdoor clothing forever. In many cases, technical clothing from decades ago was built with the same thought, durability and function that brand-new clothing is today. Some specific styles even remain timeless, like the Patagonia Snap-T Fleece, The North Face Denali Zip-Up, or the Fjällräven Kånken Backpack. 
Good outdoor clothing is built to last. It's built with integrity. That Gore-Tex jacket that's collecting dust in your basement still has life in it. It was made to protect you from the elements throughout your lifespan, and then be passed to someone else who will use it until its retirement. Use and abuse your clothing - it's what it was built for. 
Consumerism can get the best of us - I'm guilty of it, too. It's estimated that over 100 BILLION articles of clothing are produced each year (yep, you read that right). That's enough life-lasting clothing to dress every human in the world 10 times each year. Annually, 20% of this clothing goes unsold. That's 20 billion articles of clothing that becomes dead stock. It sits on shelves, in warehouses, is sometimes donated, and ultimately ends up in a landfill.


Wearing used clothing is the most environmentally-friendly way of dressing yourself. When you buy used clothing, you're contributing to a bigger picture and an important goal. You're part of an understanding: an understanding that something is usable even if it's 20 years old.
At Traverse, we hand-select all manner of timeless vintage pieces - think fleece Patagonia base layers, Arc'teryx shells, retro beanies, heavyweight knits and The North Face bomber jackets - that, though created years ago, still possess a lot of life. Each of these items contains a story, and now it's your turn to continue writing it. We hope you will use these items, then pass them on to someone else who will use and love them.
From others, through us, to you.
Sincerely,
Bryden Bowley, Curator