Holiday Gift Guide: Gifts for Outdoor Lovers
Holiday Gift Guide: Gifts for Outdoor Lovers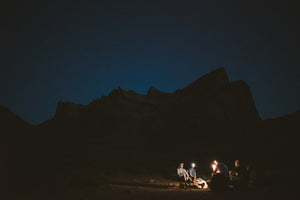 --
From best-sellers and staff picks to must-have outdoor gear and clothing, these selections are bound to thrill any outdoor lover on your Christmas list.
--
Smartwool Base Layers + Socks
To make the most of winter, you've got to dress correctly. Smartwool base layers and socks are made with soft, breathable Merino wool to keep you warm during all your winter adventures and activities. 

--


Big Sky Mountain Products Ski Skin
We've got the perfect gift for any touring enthusiast - GEAR:30's exclusive 2020 ski skin. Built by Big Sky Mountain Products and designed by Ogden's own Denver Bauter, this skin features Ben Lomond and the many animals one can spot while spending a day in the area's backcountry. 
$10 of each skin purchased will be donated to Ogden Avalanche, our very own local non-profit working to forecast, educate and keep us informed on backcountry travel.  


--
Nemo Stargaze Recliner
A perfect gift for the outdoorsman or woman who seems to have everything, the Nemo Stargaze Recliner takes relaxation to a new level. Designed for use on any surface, this swinging and reclining chair is perfect for not only stargazing, but also camping, tailgating, and watching soccer games from the sidelines.

Mark your calendar - all Nemo products will be 25% OFF during our Black Friday Sales Event November 27th - 30th.


--


Blundstone Boots
A durable and stylish unisex boot for anyone and everyone, Blundstone boots are built to stand the test of time. Made with premium water-resistant leather, a durable TPU outsole and a removable comfort footbed, these highly-requested boots are easily a go-to gift.
--
Mystery Ranch Backpacks
Shopping for an avid backpacker or thru-hiker? These Mystery Ranch expedition packs maximize weight efficiency as a full-feature, durable load-hauler that weighs less than five pounds. And don't forget to gift extra socks—Darn Tough's are the best of the best.
--
Altra Trail Shoes
The Altra Lone Peak 4.5 Trail Shoe is our best-selling shoe for a reason. With balanced cushioning, the Footshape™ Toe Box, MaxTrac™ rubber traction and more, this shoe keeps your feet balanced while maintaining freedom of movement. 
Mark your calendar - Altra Lone Peak 4.5 Trail Shoes will be discounted 25% OFF starting December 1st. 
--
Peak Refuel Freeze-Dried Entrees
It's unanimous - Peak Refuel Freeze-Dried Entrees are the GEAR:30 staff's favorite backpacking meal. With homestyle flavors like Chicken Alfredo, Sweet Pork & Rice and Beef Stroganoff, these meals are packed with premium ingredients and make great stocking stuffers. 
--
Fjallraven Clothing and Accessories
Known for their timeless Swedish design, a new Fjallraven outfit is the perfect gift for the stylish outdoorsman or woman. These holiday party-worthy selections are crafted for occasions both casual and technical, and the renowned Kånken backpack is everyone's favorite trendy accessory.
--
Patagonia Outerwear
Our most exciting news this holiday season? GEAR:30 now sells Patagonia! We're overflowing with classic items like the Nano Puff, R1, Synchilla, Black Hole Bags and more. These items are available in-store only, so be sure to stop by and get your hands on one of our most-requested brands.


--
For the adventurer who has it all:
Not sure what to get your favorite outdoorsman? A gift card to their favorite local gear store is foolproof. 
--
Follow GEAR:30 on Instagram.