Now Available: Patagonia & Blundstone
Now Available: Patagonia & Blundstone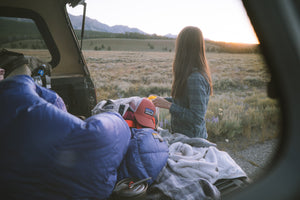 Coming Fall 2020
***Update 11/3/2020***
Our first batch of Patagonia has arrived and is available in-store only. Shop Patagonia classics pieces like the Nano Puff, Synchilla, R1, and Black Hole Bags. 
Blundstone has arrived! 
We are stoked to announce Patagonia and Blundstone coming this Fall to GEAR:30! Two of our most requested brands will soon be available at your local premier mountain equipment shop.
Known as well for their environmental activism as the must-have Micro Puff, Patagonia was founded in 1973 by Yvon Chouinard to facilitate the lack of quality gear & apparel needed for his rock climbing exploits. He still owns and operates the company, and in 2001 they were the first to join the organization "1% for the Planet" which donates 1% of annual sales to environmental causes. 
Patagonia's Core Values:
Build the best product
Our criteria for the best product rests on function, repairability, and, foremost, durability. Among the most direct ways we can limit ecological impacts is with goods that last for generations or can be recycled so the materials in them remain in use. Making the best product matters for saving the planet.
Cause no unnecessary harm
We know that our business activity—from lighting stores to dyeing shirts—is part of the problem. We work steadily to change our business practices and share what we've learned. But we recognize that this is not enough. We seek not only to do less harm, but more good.
Use business to protect nature
The challenges we face as a society require leadership. Once we identify a problem, we act. We embrace risk and act to protect and restore the stability, integrity and beauty of the web of life.
Not bound by convention
Our success—and much of the fun—lies in developing new ways to do things.
*Patagonia will be available at GEAR:30 (in-store only) this September!
Blundstone - The Original Australian Boot
There's truly no place like Tasmania, and there's no boot like a Blundstone. They have the kind of iconic, rugged good looks that feel right at home wherever home is. And the way they look is matched only by how comfortable they feel. 
While they have evolved in style, design, and technology over the years, the quality has never changed. Blundstone boots are still built as they always have been: to go anywhere, do anything, and look great every step of the way.
Try out a pair for yourself this fall at GEAR:30 - Ogden's Premier Mountain Equipment Shop!