GEAR:30 Staff Outdoor Resolutions for 2021
GEAR:30 Staff Outdoor Resolutions for 2021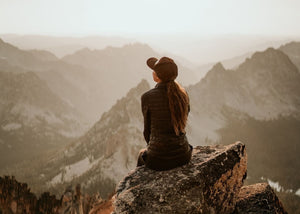 --
In 2021, we want you to get outside.
Our staff members have set some rad outdoor-centric resolutions for the new year. Get to know them below, then come visit us so we can help you prepare for your own adventure!
--
"In 2021, I hope to keep progressing in my climbing and snowboarding. During the winter I'm excited to splitboard as much as possible and learn more about the backcountry. I'd also like to try and do all four 900's again now that I'm 30. 
During the summer it's easy for me to find new climbing oriented goals. I'm stoked to keep exploring at my favorite crags and travel to new ones, but my biggest goal is to redpoint twelve routes graded 5.12 or harder." - Cody
--


"I plan to run my first 50K since finishing the Antelope Island Fall Classic 50K in 2013. I've gained 30lbs, added a child, haven't completed an ultra in 7 years...and now broke my foot, so this will make for a good comeback goal in 2021. The three 50k opportunities I have my eyes on include the El Vaquero Loco, Three Bears, or the Antelope Island Fall Classic." - Brandon
--
"One main thing I want to do in 2021 is road trip from Utah to California, Oregon, Washington and back. Utah is the furthest west I have ever been. I would also love to ski in Colorado and Oregon!" - Avery
--


"My goal is to complete the Run Rabbit Run 50-mile ultramarathon. I signed up for it last year but it got canceled!" - Caity 
--
"My goal for 2021 is to learn how to ski! I have snowboarded for several years but Sara is going to take me out this season and teach me skiing since I've never tried it." - Abbey
--
"In 2021 I want to summit a 14er with my nine-year-old son, Bruce. We did a 13er last summer and he crushed it, so we gotta up the ante, right?" - Greg
--
"My outdoor goals for 2021 are to gain skills on how to effectively backpack in the rain for days at a time, gain skills on off-trail navigation, finish the CDT, and hike the GDT." - Bryden
--
"My 2021 outdoor goal is to find the crazy balance between my outdoor passions for backpacking and summiting peaks while being a full time graduate student! Can I earn credits per peak bagged?... My husband and I plan to backpack throughout Yosemite National Park, Glacier National Park, Montana, Colorado, Washington and the mountains in our own backyard! I also plan to confront my uneasiness about water, and get lessons on river and ocean kayaking from my husband." - Nicole
--

"My outdoor goals for this year are focused mostly on sporting and DIY projects. 

With help from friends, scouting and time behind the rifle, I am hoping to bag my first big game animal. 

I have also been researching new and remote rivers and am planning on boating and fly fishing as much as I can during the summer. I have a small raft from Ogden-based Dave Scadden Paddlesports, but I have been entertaining the idea of building a wooden drift boat with plans from a Montana boat designer and using EcoPoxy and natural fibers as opposed to fiberglass and standard resins. Other fishing goals are to learn to Spey cast, start tying flies and build a bamboo fly rod. Immediately, though, I am working on a wood-fired/portable/camping hot tub project." - Jack

--
"I want to do a backcountry ski trip powered 100% by me using my bike and my skis." - Chase
--
"In 2021 I want to f

inish my bike ride across America. I started last year, but with COVID and all the craziness, it came to an early end. I really want to pick up where I left off in Missoula and finish my little pedal-fest across the USA!" - Sara

--
"

This year, I hope to hike the entire Bonneville Shoreline Trail. While much of it is unofficial, the proposed route is just over 280 miles in total and spans the Wasatch Front from the border of Idaho to Santaquin. It'll be an exciting accomplishment to walk along the mountain range I've called home my whole life." - Mekenna

-- 

Follow GEAR:30 on Instagram.