13 Outdoor Adventure Films to Stream Online For Free
13 Outdoor Adventure Films to Stream Online For Free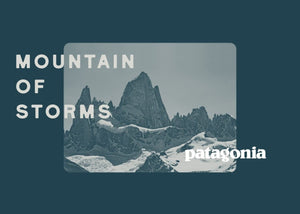 --
Between dark winter nights and the ongoing pandemic, an outdoor adventure movie marathon sounds like the perfect way to satisfy our travel bug and motivate us for the year ahead. Not only are these 13 films exceptional and inspiring, they can also be streamed from the comfort of your home for free. 
--
Mountain of Storms
PATAGONIA, 52 mins
In 1968, five friends set out on a 5,000-mile road trip in a white Ford van bound for South America. They packed surfboards, skis, and climbing gear and documented the whole trip on a 16mm Bolex camera. From Ventura, California to a first ascent on Cerro Fitz Roy, with a stop for sand skiing and 31 days in an ice cave in between, Mountain of Storms not only prefigured the modern adventure movie, it serves as the mythological origin story behind the Patagonia name and philosophy: what's important isn't what you accomplished, it's how you got there.



--
Moksha - Freedom Through the Mountains
ANDSHESDOPETOO, 21 mins
This film highlights a handful of bad-A women on a week-long bike packing adventure through the lower Everest region and competing in the Asian Enduro Race Series. These inspiring moments, along with many shared Nepali meals, customs, and dances have created long lasting sisterhood and love for one another, despite the age gaps and cultural differences on the team. In short, the journey shares a blossoming female community that few people even know exist and in a dramatically male dominant society and culture.



--
The Frozen Road
BEN PAGE, 24 mins
Self-shot and edited whilst cycling around the world, this short film charts a winter journey into the Canadian Arctic as Page completed a bike ride up the American continent. Compelled by Jack London's assertion that "any man who is a man can travel alone," Page sought an adventure of perfect solitude. As he came to realize, the harsh truths of traveling in such a formidable environment were a long way from the romantic images he'd held of this land. The Frozen Road is an honest reflection on his solo trip; of the wonder, terror and frustration he experienced when riding through the unforgiving emptiness of one of the world's "last great wildernesses."



--
Loved By All: The Story of Apa Sherpa
SHERPAS CINEMA, 13 mins
Every spring, the summit of Mount Everest draws people from around the world. But in its shadow live the Sherpa - a resilient, religious people, who, despite the riches surrounding the highest peak on earth, are still quite poor and uneducated. A child of the Khumbu, Apa Sherpa has climbed Everest 21 times. Pulled away at the age of 12 to work as a high altitude porter like so many others, he would leave his family for months, risking his life on the mountain. Through his work at the Apa Sherpa Foundation, he aims to create a different future for his people.



--
Reel Rock 12: Break On Through
REEL ROCK, 28 mins
Follow American climber Margo Hayes on her quest to make history and become the first woman to ascend two of the most revered climbs in the world – La Rambla in Spain and Biographie in France, both rated 5.15a. Watch via Red Bull TV here. 


--
Where Dreams Go To Die - Gary Robbins and The Barkley Marathons
ETHAN NEWBERRY, 1 hr 16 mins
Where Dreams Go To Die is a documentary created by Ethan Newberry (The Ginger Runner) that follows Canadian ultrarunner, Gary Robbins, during his two attempts at completing The Barkley Marathons - a 100+ mile event many consider the toughest endurance run on Earth. Spanning more than 2 years, this journey is emotional, powerful and truly inspirational. Find out what it takes to attempt the impossible and the demons that follow. Learn the sacrifices that come with dedicating one's life to this endeavor. This film is an intimate look at why The Barkley is where dreams go to die.



--
Eclipse
SWITCHBACK ENTERTAINMENT, 31 mins
It was a ridiculous idea from the start. Travel to the edge of the earth to see one of the planet's rarest events, a total solar eclipse in the Arctic. Faced with the likely reality of bad weather obscuring the sun and having to battle frigid arctic temperatures and winds, the odds did not favor success. Despite this, the Salomon Freeski TV team set out on an expedition to realize photographer Reuben Krabbe's grand vision to capture a single unique image: skiing during a solar eclipse. 



--
Venture Out
REI, 14 mins
The Venture Out Project is an organization dedicated to creating inclusive spaces for the marginalized queer community to enjoy the beauty and fun of the wilderness together. Through their backpacking and wilderness trips, participants forge lifelong bonds and make unforgettable memories.



--
Call Me Crazy: The Legend of Mike Wiegele
ANDREA WING, 20 mins
This film, a finalist for this year's VFA's in the Actions Sports category, chronicles the story of how a ski-obsessed Austrian with a vision no one else believed in became one of the most influential figures in snow sports.



--
Fishpeople
PATAGONIA, 49 mins
To some, the ocean is a fearsome and dangerous place. But to others, it's a limitless world of fun, freedom and opportunity where life can be lived to the fullest. From surfers and spearfishers to a former coal miner and a group of at-risk kids in San Francisco, it's a film about the transformative effects of time spent in the ocean—and how we can leave our limitations behind to find deeper meaning in the saltwater wilderness that lies just beyond the shore.



--
Ice & Palms
VAUDE, 32 mins
A 100% self-powered bike + ski adventure. Jochen Mesle and Max Kroneck start their biggest and most extraordinary ski tour so far. The mission: bikepacking across the alps and skiing some iconic mountains along the way, no motors allowed! Six weeks, 1.800 km, 35.000 vertical meters and a dream come true.



--
Breathtaking: K2 - The World's Most Dangerous Mountain
EDDIE BAUER, 46 mins
"K2 is a savage mountain that tries to kill you." That is how climber George Bell described the infamous peak after the first American expedition in 1953, forever giving the mountain its nickname: The Savage Mountain. Sixty-six years later, Eddie Bauer mountain guides Adrian Ballinger and Carla Perez aim to summit the 8611-meter peak and join a community of explorers fewer in number than those who have been to outer space. Even more incredible, they both will attempt the feat without the use of supplemental oxygen. Every step of the way the team faces hazardous conditions, terrifying setbacks, and crushing misfortunes. But as Ballinger puts it, "I'll go until the mountain tells me I can't go anymore."



--
The Last Honey Hunter
FELT SOUL MEDIA/CAMP4 COLLECTIVE, 36 mins
In the steep mountain jungles of Nepal's Hongu river valley, members of the isolated Kulung culture have risked their lives for generations scaling dangerous cliffs to collect a wild and toxic honey. Deep and dark, the film glides through a misty world of forest spirits, dreams, and woodsmoke to share the story of the leader of the harvest and his final journey.



--
Follow GEAR:30 on Instagram.