7 Rare Vintage Outdoor Clothing Items + the Stories Behind Them
7 Rare Vintage Outdoor Clothing Items + the Stories Behind Them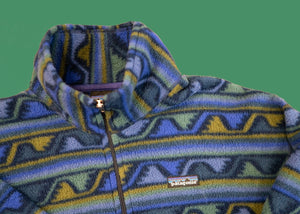 --
Every piece of vintage clothing has a story to tell. Here's the history behind seven of our rarest Traverse vintage items from Patagonia and The North Face (and how you can get your hands on them).
--
All the items featured here - and many more - will be available in-store only at GEAR:30 starting December 17th at 10:00 AM. Follow @traverse_ogden on Instagram for updates and information on future collections.
--
1990's The North Face Mountain Light Jackets
If you didn't know, now you know: The North Face is one of a handful of brands that are culturally significant in the evolution of streetwear. The Mountain Light Jacket has been so influential, in fact, that TNF has been re-adapting this 90's jacket design for modern collections. These two jackets are the real deal - the originals! - making them highly sought after. Did we mention they're Gore-Tex?
--
1970's The North Face Down Booties
If a TNF product is graced with a brown label, it's typically from the 70's or 80's and made right here in the USA. These red and green down booties are in immaculate condition and were likely worn only a couple of times, if at all. Not only is this accessory super rare, they're also super plush, comfortable and unique.
--
1990's Patagonia Half-Zip Fleeces
These printed fleece jackets from the late '90s are just as unique-looking as they are hard to find. The Condor Arrows fleece (right) was produced in three stunning color ways and is one of the rarest items in our vintage collection. If you want this piece, you'd better move fast; you'll be hard-pressed to find it anywhere else for under $180.
--
Napapijri Fleece Zip Jacket
Originally a producer of alpine travel bags, Napapijri is an Italian premium casual-wear brand easily recognizable by its Norwegian flag logo ("Napapijri," translated from Finnish, means "Arctic Circle"). While the brand is very popular in Europe, a piece like this is generally hard to find in the US.  
--
1970's Patagonia Bunting Pant
You may have guessed this already, but it's pretty difficult to find Patagonia items from the 1970's. Back in the day, manufacturing outdoor clothing was somewhat of an experiment and items were produced at a much lower volume than they are now. We're extra excited about these museum-worthy deep pile fleece pants for so many reasons: the history, the retro Patagonia logo and the drawstring waist, just to name a few. 
--
Follow GEAR:30 on Instagram.