Gear We Love: Voilé Skis
Gear We Love: Voilé Skis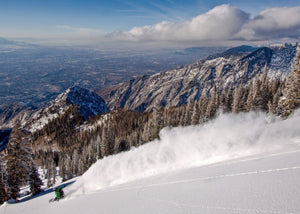 --
Don't let the French-sounding name of this revolutionary backcountry ski manufacturer fool you: Voilé creates award-winning skis and splitboards right here in the state that claims The Greatest Snow On Earth.
--
Voilé

products are handmade in Utah and have been since 1991.

Voilé has been manufacturing backcountry equipment since the '80s, and has been located at the doorstep of the Wasatch Range since day one. It was here that a backcountry legend was born: In 1991, Brett "Kowboy" Kobernik brought a prototype of the first-ever splitboard to Voilé founder Mark Wariakois, and the rest is history. As if the company hadn't already innovated enough, Voilé also created the original ski strap. What we're trying to say is, these folks are legendary.


Voilé

's line of skis is constantly evolving, but is consistently uncompromising in lightweight backcountry performance.

From the Manti's durable aspen to the Hyper V6's poppy paulownia, Voilé combines laminated wood cores with triaxial fiberglass and carbon construction to create lightweight but powerful skis. Though they "may not look like the sexiest ski on the market" (their words, not ours), take these skis off-piste and you'll experience the delicate balance of high rigidity and low weight penalty for yourself. Voilé's tagline is "Simple. Solid. Backcountry." for a reason; these skis will perform without breaking the bank.

 

Albeit touring-specific, Voilé skis have a reputation for "quiver-killer" versatility.
Can one ski truly handle it all? Voilé's reputation for building backcountry dream machines is, of course, at the core of their business. With that said, review after review states pleasant surprise after testing these skis on groomers. A long list of awards and accolades cements Voilé skis as crowd-pleasing in any condition, and especially for those seeking a quiver of one.
--
--
Shop all skis here.
Follow GEAR:30 on Instagram.