Simba Tested - Nemo Fillo Elite Backpacking Pillow
Simba Tested - Nemo Fillo Elite Backpacking Pillow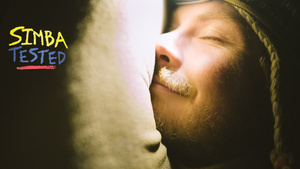 Simba Tested - Our gear guru & resident thru-hiker, Bryden Bowley (Trail Name = Simba), spent the summer of 2019 thru-hiking the Continental Divide Trail over 2,000 miles across Montana, Wyoming, Colorado, and New Mexico. While hiking, he chose 22 products to use, abuse, and give his unbiased review. Bryden's hiking resumé includes over 5,400 miles of trails since 2017 - for comparison that's about the same distance from LA to NYC and back again. 
 21 day hike across the Swedish Kungsleden trail - 270 miles
The Anna Purna Circuit in Nepal, topping out at 17,800 feet above sea level - 175 miles
2017 thru-hike of the Pacific Crest Trail where he earned his trail name "Simba" - 2,650
2019 Continental Divide Trail - 2,300 miles
Each week we'll release a new review that Bryden shot while on trail last summer - plus a follow up with his honest feedback about each product. We're proud to share Bryden's unbiased opinion about these products, and you can ask him questions directly through our Instagram Page. This is Simba Tested.
Nemo - Fillo Backpacking Pillow Elite REVIEW

Learn More about the Nemo Fillo with Bryden "Simba" Bowley
What made you choose this for thru-hiking?
I've always used a pillow for thru hiking and this is one of the ultralight pillows GEAR:30 carried. I've owned 2 total, the first one got super dirty after the PCT and was kinda gross so I got this one before going to Sweden. 
How many hiking miles did you use it?
2,600 miles - I used this specific pillow on the Kungsleden, Anna Purna, and the CDT this past summer.
Estimated life-
5,000+ miles. The only wear & tear a pillow gets is when you're sleeping. They don't even really get that abused, it's more so greasy and oily because when you're on trail for a long time you're not washing your hair. The pillow changes color over time and gets darker and more dirty until it's time for a new one. 
Would you use it again?
Yes - But to be honest I'm probably going to get a new one because it's SO DIRTY and they're relatively cheap to replace. 
Favorite thing about it-
Super easy to blow up and really comfortable. One deep breath blows it up (that's what she said) and it feels like a regular pillow you'd have at home. 
Least favorite thing about it-
It's not a necessary item. You could use your down jacket or food bag for a pillow, but it's nice to have. Other thru-hikers make fun of me because I use a pillow... I've gone super ultralight (base weight under 10lbs) the past couple years and I still pack a pillow. It's a Luxury item but it's worth it to me. 
Would you recommend this to someone else?
Yes, it small and comfortable. When you're super tired after hiking all day you're definitely not going to regret having this thing with you. It's a huge upgrade from a stuff sack or puffy jacket. 
In Summary
As ultralight as I am, I still like having the luxury of packing out a 2.8oz pillow. I had used a Sea to Summit pillow for two years and I decided to try something new. This Nemo pillow is ultralight, packs down super small, and feels like a pillow from home. I love this pillow and would definitely recommend it. 
More from Simba Tested