Simba Tested - Katadyn BeFree Water Filter Review
Simba Tested - Katadyn BeFree Water Filter Review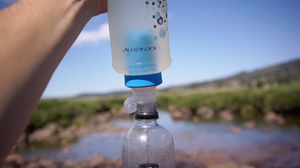 Be Free
Water Filter
What made you choose this for thru-hiking?
I had seen some other hikers use it here and there, but all of the thru hikers always have sawyers. I started to get sick of using the Sawyer, so Gear:30 gave me this one to try.
How many hiking miles did you use it?
800
Estimated life?
At 800 miles it was starting to filter slower, but not horrible. I bet it could last 1,000+ hiking miles
Would you use it again?
Definitely. It's my favorite water filter ever. I'm not switching anytime soon.
Favorite thing about it-
Filters crazy fast.
Least favorite thing about it-
Would you recommend this to someone else?
In a heartbeat. If you're going backpacking it's the best water filter in my opinion.
If not, what would you recommend?
I recommend this water filter.
To Sum It Up
All of my water filtration throughout my three years of hiking has been with a Sawyer. I was starting to think of trying something new and Gear:30 carried the BeFree. I had no expectations of how well this water filter would work and it proved to be amazing.

Check out these other products that work with the BeFree Filter