Calling All Artists - Touring Skins Artwork Competition
Calling All Artists - Touring Skins Artwork Competition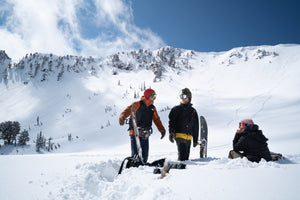 ARTIST CALL
Touring Skin Design Competition
Due Date: June 15, 2020
We are seeking local artists to show their talent by providing designs for a unique art competition. We are partnering with Big Sky Mountain Products to create locally designed, custom created skins. The design chosen will be sold in the store for the 2020/2021 winter season. 
Big Sky Mountain Products Nylon Climbing Skins are regarded for their grip-to-glide ratio, self-renewing skin glue, and unparalleled durability. While the glue on other skins tends to fail in cold or snowy conditions and breaks down over time, our glue stays strong in all conditions and can be relied on for years of heavy use.
Prizes:
Winner gets a $100 gift card to the store and a free pair of skins with their design. (Total value of over $250)

1st and 2nd runners up will get $50 gift card
Other benefits: We will widely publish the top choices in press, social media, advertising and direct e-mail blasts. You will receive lots of peer respect and connections to our social following
Eligibility: The Contest is open to all who, at the time of entry, are eighteen (18) years or older, or if under the age of 18 the entry must be accompanied by a consent form signed by a parent/guardian. Participants can join the competition as individuals or in a team. There is no limit on the number of entries.
Dimensions and Specifics:
a 200 dpi file which is 6 1/2" x 36-80". The range in lengths just depends on how often you/the artist would like the pattern to repeat per skin. Skins come out to about 79", so a 36" file will repeat a bit more than twice. We prefer to avoid 79" lengths so that each skin isn't exactly the same. 
Process:
Submit a single inspirational graphic design theme for review by June 15th, 2020. These final submissions must adhere to the specifications noted above.
Remember Your Audience:  Adventurous travelers who love type two fun! They love "Ogden Culture", love skiing, values unique conceptual art, and custom equipment.
Ideas to help with concept and boost those creative juices:
The peace and movement of backcountry skiing

Patterns, colors and movement of snow

Ogden, Utah. It's unique culture and history

"Freshies", ski adventure, exploration, mountains, nature,Ski tracks

Personal identity as a skier, unique experiences interacting with the mountain and snow.

Spirit Animal

Retro ski posters
Style: we are open to all kinds of designs, from realistic to abstract or painterly, photography, mixed media, cartoons, geometric or other.
Entries may be submitted through the google form here: GOOGLE SUBMISSION FORM