Alpinists and mountaineers consistently agree that "Fast & Light" is the ideal way to travel in the backcountry. That concept rings true with backpacking, allowing you to hike further and longer with less strain from carrying a heavy pack all day. Plain and simple, the best adjustment you can make to improve your backpacking experience is eliminating excess weight from your pack. 
Our expert staff ranked their 5 best tips for reducing your backpacking base weight, don't miss our #1 tip and a chance to save some money while upgrading your setup.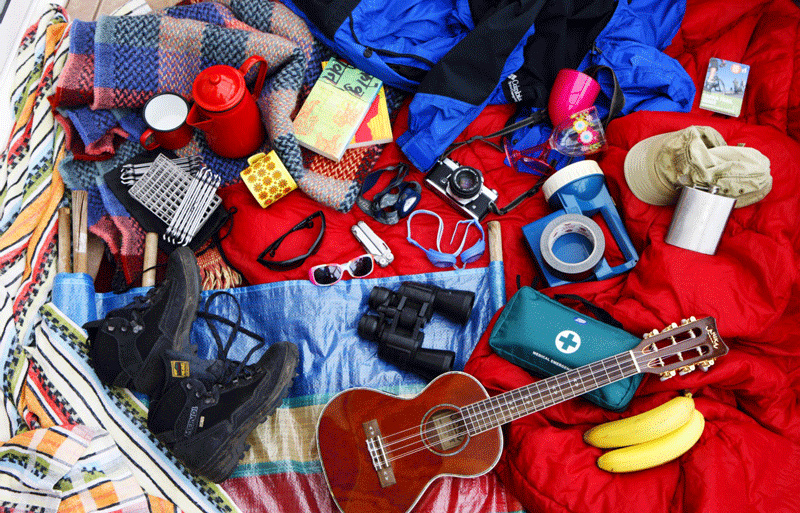 5. Most of the Stuff You "Might" Use, You probably Won't.
This is probably the hardest habit to break, but can have a huge effect on your total base weight. Excess gear that isn't 100% necessary takes up both space and weight within your pack, and most of the time you aren't going to miss it anyway. Gradually reducing excess items to slim down your pack is the first step to transitioning into a lightweight, or eventually even an ultralight thru-hiking setup. Backpacking and thru-hiking is less about being a gear junkie than it is about being a minimalist. Leave the clutter at home and keep just the essentials for your trek. 

4. Lighten up Your Sleep System
Shelter, Bag, Pad. You can get pretty extreme here, but we're not recommending to ditch the tent and sleep "cowboy style" on the ground. Instead, take a look at the system you're currently using and see if there's room to be more efficient. The right tent can make a huge difference in overall weight, as a one-person ultralight tent like the Nemo Dragonfly 1P can weigh in at less than HALF the weight of a regular 2 person tent that you might currently have. 
Secondly, check to see if your sleeping bag uses synthetic or real down. A high quality down bag is lighter and more packable than synthetic fill. If you're thinking about upgrading your bag, we highly recommend the down bags from Western Mountaineering. 
Finally, a sleeping pad that's engineered to be lightweight is the final piece of the puzzle to reduce your sleep system weight. Modern pads have been redesigned to cut weight and become much more packable, and are available in both foam and air-inflated options. Older air-inflated pads tend to leak and take up tons of space in your pack, while the newest models come with patch kits that work incredibly well in the event of a cactus thorn puncturing your backcountry bed. To go ultralight, check out the Therm-a-rest Neo XLite - but we also carry a wide range of lightweight pads that start under $100 HERE.
Your sleep system is going to be the largest addition to your base weight, so think carefully about shedding ounces here and investing in the proper equipment that will allow you to hike further and longer, with less wear and tear on your body.

3. Cooking System and Food Selection
Water is heavy, and there's no way around that as it is absolutely essential on a backpacking trip. But that said, there are still a few great ways to lighten up the load when it comes to your cooking system and food choice. 
First off, you need a water filter to utilize natural water sources on the trail. Katadyn and Aquamira make great water filters and water treatment tablets that will allow you to filter more water during the trail, meaning less water weight on your pack. 
Next, you can ditch the heavy snacks and packaging that would normally feed your weekend car camping and instead choose lightweight meals designed for backpacking. Peak Refuel makes freeze dried meals that just need hot water and a little stirring. They're fast, filling, and delicious, and take up barely any space or weight within your pack. Check out their selection of backpacking meals HERE.
Lastly, consider the weight of your stove and cooking pot. You'd be surprised to see how much weight you can save by choosing an ultralight stove and pot designed for thru-hiking and backpacking. JetBoil has great combo options that combine the stove and pot into one seamless system, but you can also opt for the ultralight GSI cooking pots and pair it with an Olicamp, Optimus, or SOTO camp stoves. Browse all ultralight cooking equipment HERE.

2. Ditch Your Hiking Boots 
Our number two for best ways to cut backpacking weight is ditching the "Hiking" shoes you've been using and switch to a pair of trail runners. Hiking shoes are built to be big, burly, and tend to be REALLY heavy. You'll be hard pressed to find a thru-hiker on the PCT, CDT, or Appalachian Trail wearing anything but an ultralight trail running shoe. Our most popular trail running shoes for thru-hiking are without a doubt Altras. The Lone Peak and Timp models are highly recommended by GEAR:30 staff Bryden Bowley (Currently 250 miles into the CDT). 
Browse our selection of Altra Trail runners HERE

1. Pack only ONE set of clothing. Including Underwear!

Finally, our best tip to shed weight and become a more efficient backpacker is taking only one set of premium clothing to hike in. No need to pack multiple outfits for each day you're gone, simply choose the best clothing to fit the trip you're going on. Cotton kills in the backcountry, and you're going to smell bad anyway - so we highly recommend choosing premium fabrics like Merino Wool and Bamboo blends to keep you cool, dry, and as odor free as possible. Here are our top 3 products that can stand alone on the trail instead of packing your entire closet. 
Socks - 1 pair of Darn Tough socks, backed by a lifetime warranty and made of Merino Wool. They dry quickly after crossing streams and are far more resistant to odor than traditional blended fabric socks. 
Underwear - 1 pair of moisture wicking Saxx boxer briefs for the guys, or 1 pair of Free Fly bikini briefs for the ladies. Hand wash them on a trail if you need a refresher, but downsizing to one pair of underwear is the way to go for backpacking trips. 
Shirt: Icebreaker Merino wool cool-lite shirts. Guaranteed 7 days odor free thanks to their merino blend that is lightweight, incredibly soft, and built for absolute performance. These are not your typical T-shirts so don't expect to pay a typical T-shirt price. Investing in a high quality base layer Tee that you can trust to move with you, stay dry, and not reek of body odor is well worth the money. Check out Icebreaker HERE
There you have it, our best practices for lowering your base weight for backpacking or thru-hiking. Let us know in the comments what worked best for you and how much weight you saved. 
Thanks for reading and enjoy a bonus $20 on us with the code BaseWeight at checkout on your next order over $50!