The most human-powered vertical feet in skiing history.

GEAR:30 welcomes Aaron Rice for a Film Screening & Keynote.
Friday, Feb. 22, 7pm.

FILM (22 Minutes):
"2.5 Million" follows American skier Aaron Rice as he sets out to ski 2.5 million human-powered vertical feet in the backcountry and set a new world record. To be successful Aaron will have to ski over 330 days in the calendar year and chase snow around the world. The challenge is both physical and mental, and injuries are simply not an option.

KEYNOTE:
30 minute keynote with Aaron Rice on setting a new human-powered backcountry world record followed by a Q&A.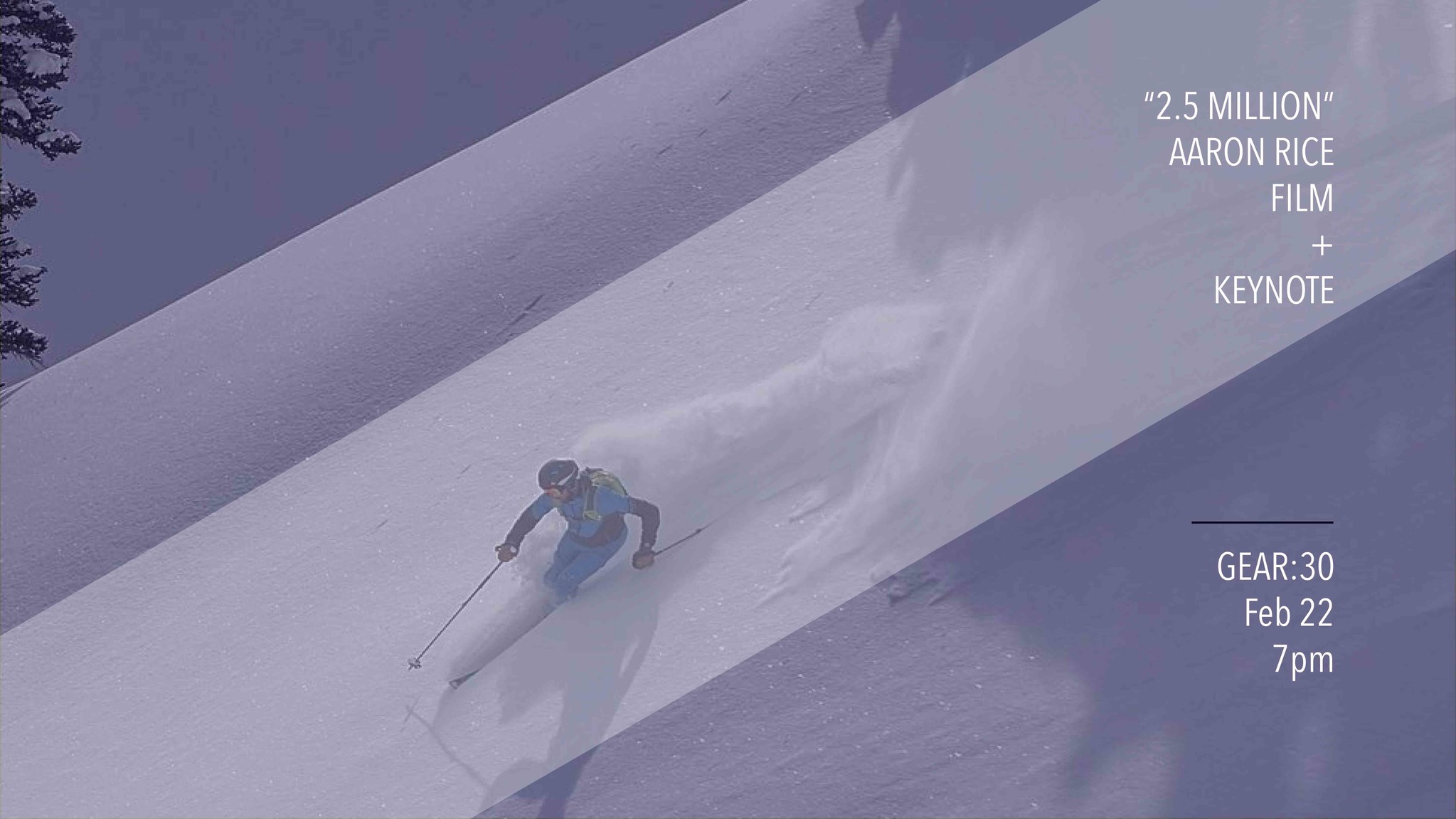 BIO:
Aaron grew up in a co-housing community in suburban Massachusetts. At an early age the family ski trip up to Sunday River, Maine was the highlight of his winter. As the awkward long-braided-haired, striped shirt wearing, colorblind, vegetarian entered junior high, he was already trying to head North on the weekends to ski. Unable to drive the trips were few and far between. Once in high school, Aaron joined the Varsity Alpine Ski Team and began racing 3-4 days per week at Nashoba Valley. Located 10 minutes from the school with a glorious 240 vertical feet! He was never the fastest racer and the slopes were often sheet of ice or melted to dirt. It was at this time though that Aaron learned that any day spent on snow is better than a day not. Aaron also started ski instructing at Nashoba allowing him to be at the ski area nearly every day after school. Once he was able to drive, trips with friends up to Vermont and Maine became commonplace.

By the end of high school, the damage had been done. When looking at college the deciding factor came down to access to the mountains. In 2008 Aaron began at The University of Vermont. There he quickly joined the Outing Club and took courses in backcountry skiing. Developing a group of friends that were as excited about 4am dawn patrols and getting back for 9:30 class as he was. Each year he skied more and more in the backcountry, leading the backcountry ski program for the outing club for 2 years. In the spring it was Tucks time, giving him a glimpse into what bigger mountains had to offer. His senior year he skied 98 days (and it would easily have been 100 if it weren't for the craziest March heat wave)

Through college Aaron made a few pilgrimages out to Jackson Hole, Bridger Bowl, the Sawtooths and Alta. Alta stood out. So when school ended he quit his well paying job and moved to Alta for one season. That first season in Alta he started really traveling in avalanche terrain. Terrified at first, but ending the season with much anticipated descent of the South Face of Superior. The next summer he miraculously landed another real, well paying job in Boulder, CO as a software engineer. In the fall though for some reason he up and left, back for Alta. The second season in Alta was about exploring and normalizing. Aaron started picking some bigger objectives, and playing with ropes, holding the Chuting Gallery as his bible. He doubled the vertical he earned in the backcountry the prior season. In the 6 month season he earned 400,000 vertical feet, had his first day over 10k, and had his first month over 100k.

The next summer Aaron worked some, but also traveled down to Argentina to ski more. Living in Bariloche for three months, he was able to ski some amazing backcountry at Refugio Frey, on glaciers, and on volcanoes. The next winter he went back to Alta for a 3rd season. This was the season of seeing how he could push his body. With Joey Camps as his touring partner, they pick longer and bigger objectives. Skiing Timpanogos, the Hypodermic Needle, countless Superiors, north and south, Little Pine, Tanners, The East Face of the Twins, The NW of the Pfeiff, Boxelder 4 times in a day on multiple occasions, Chipmans, Red Baldy, and many, many more. In addition they attempted a 24hr long tour. This had been on the radar for at least a year by this point. The tour ended up being 25 hours and they skied 21 lines in Days Fork and 24,000ft of untouched pow! By the end of the season Aaron had a 365day vert total of 726370 feet.

With a full time job in Alta, Aaron had been averaging 5,000 feet per day for much of the winter. He had skied many 10k+ days, he had pushed all day, night, and day again and gone on a 24,000 foot tour. He knew how hard he could push, and just needed the time to stack it all up. In the 2015/2016 season Aaron plans to ski 2.5 Million vertical feet in a full year.


ACCOMPLISHMENTS:
+ Wasatch Descents: S. Face of Superior, E. Face of SLC Twins, Super Couloir (Boxelder), Battle Creek (Timpanogos), The Needle, The NW of the Pfeiff, White Pine, Little Pine, Tanners, Limber Pine, Monte Christo Gully, All Wolverine Chutes, and many more.

+ Colorado Descents: Grizzly Chute, Tuning Forks, Witches Hat (Buffalo Mtn)

+ South American Descents: Cerro Madsen (Fitzroy Range), Alaskita (Cerro Catedral), Tres Marias, El Monge (Refugio Frey), Glacier Hielo Azule, Volcan Casablanca

+ East Coast Descents: Dodge's Drop (Mt. Washington), Casses Gully (Smuggler's Notch), Sunset Ridge (Mt. Mansfield)

+ Completion of a 25 Hour tour with no breaks (more than 10min for water and food) earning 24,000 feet in that time and skiing all 21 named runs in Days Fork. (Jan. 7th&8th 2015)

+ Boxelder Traverses: White Pine TH -> No Name Baldy -> Boxelder (Super Coulior, Shotgun Chutes, NE face) -> Lake Chute -> White Pine TH (13hrs, 11K, 16Mi) (Mar. 28th, 2015

+ 726,000′ earned in 365 Days ('14-'15)

+ 211 Days skied in a Year ('14-'15)

+ 158 Days skied in a row ('13-'14)

+ 155.000′ earned in 30 Days (Jan-Feb 2015)

+ 22 Month streak (Ongoing)

+ 10 10,000′ days in a season ('14-'15)