7 Tips for Traveling with Kids Through Yellowstone
1. Patience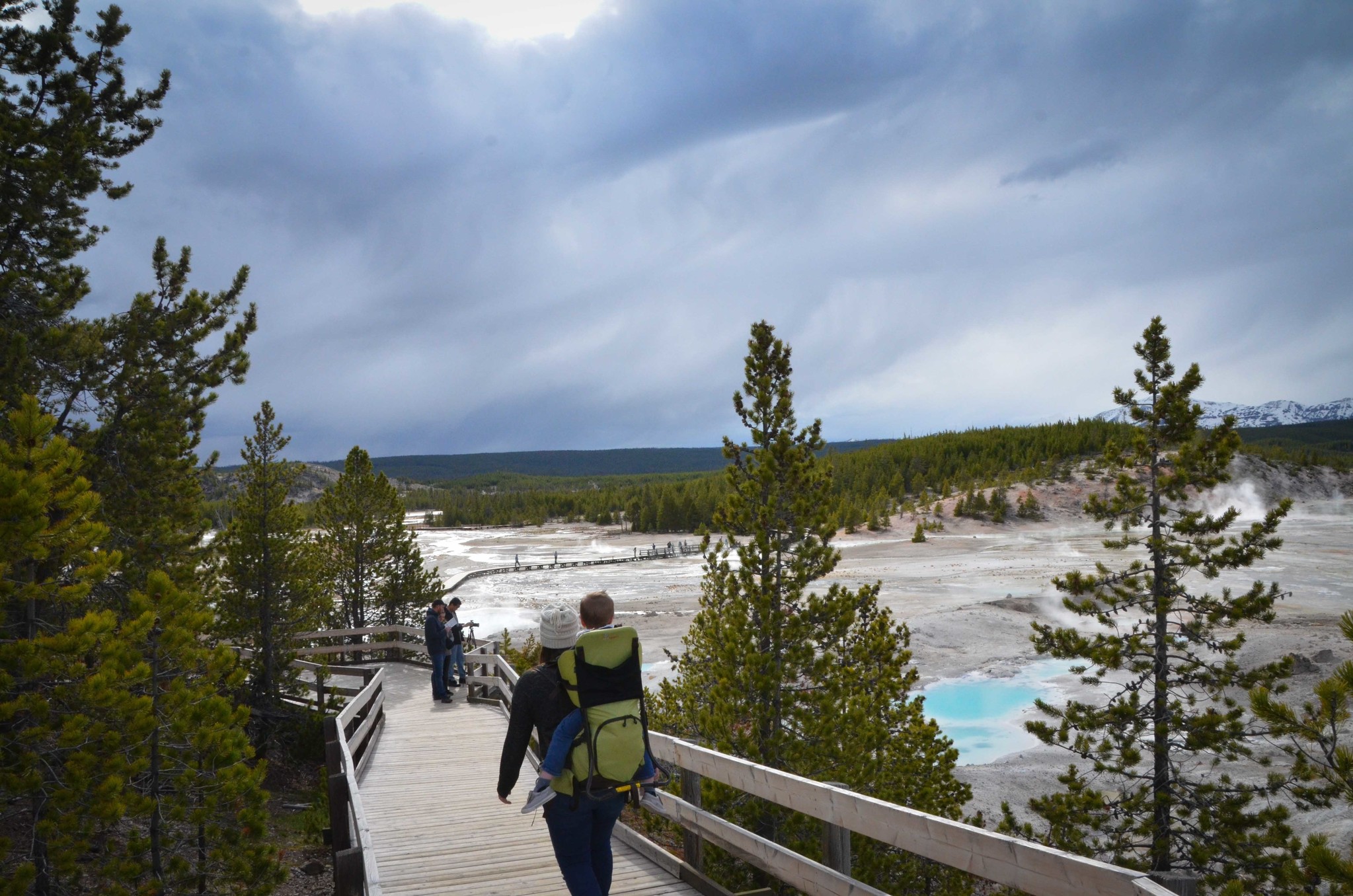 The hardest and most important thing to remember when traveling with kids is that the parents priorities take a back seat to whatever the kids want. Having patience and missing out on opportunities you as the parent may want to do is all subject to the willing participation of your kids. This can suck sometimes. But here's a couple ways to make the day go smoother.
Kids make all the rules, or at least let them think so. Discuss the day's agenda with your children and let them have a say as to which direction, sights, or activities they would like to do. Then as the parent, make your travel choices with their opinions in mind. This helps the kids feel more invested during the long day ahead.
Another tip is to bring a kid carrier to take the load off small children enabling you to get out and see the sights without stressing the young legs as much. Using a kid carrier also ups the safety factor and allows you to focus less on holding onto your child and more on taking in the sights of the park.  
Finally, let the kids play a bit. Find a picnic area, a pull-out with a view, or just hang out at camp and let the kids be kids. Keep a keen eye on your children at all times however as wild animals are everywhere and even a giant solo bison can easily sneak up from behind and cause quite a scare. Allowing the young ones to burn off a little energy before heading off to the next destination helps keep everyone in good spirits.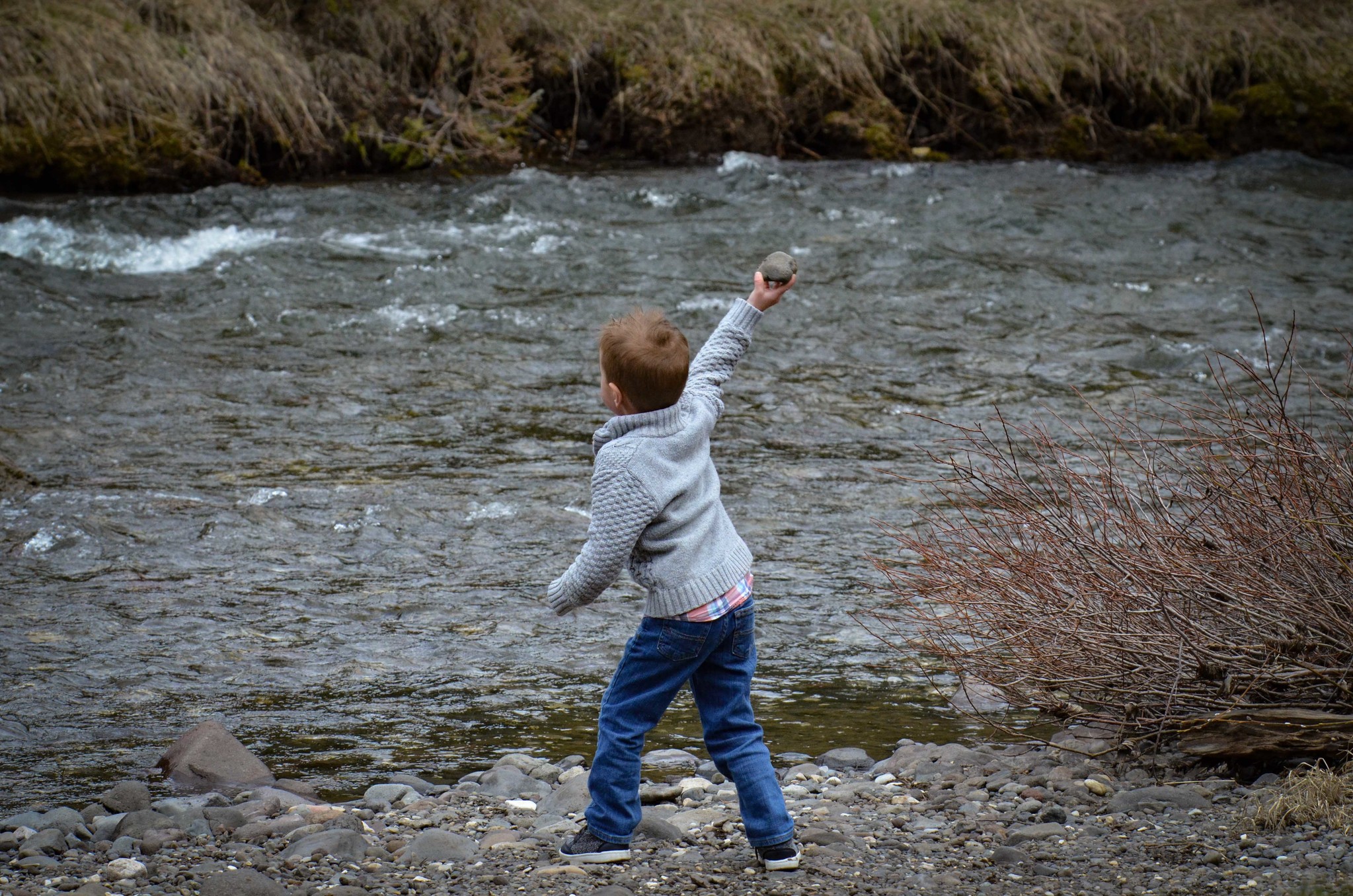 Pretty sure it's illegal to launch rocks into a river in Yellowstone, but alas, boys will be boys. One of the more harmless rules a kid can break. 
2. All the Snacks
Load up on snacks! Ensure the parents have a variety of eats and drinks easily accessible in the car for themselves and the kids. Sure, this may lead to an extra bathroom stop along the way, but it relieves the constant, "I'm hungry" chants that can easily ruin a scenic and peaceful drive through the Park. Bring extra cash to grab an ice cream. Mammoth, Canyon, and Old Faithful are all excellent places to take a break, enjoy an ice cream cone and let the kids be kids. 
3. In-Car / RV Entertainment
Sure, we would like to establish a NO ELECTRONICS clause on our trip through the prisine wilderness that is Yellowstone, but come on, let's be real. Kids need something to do. We're blessed that only one of our three children are mildly addicted to their electronic devices, but having an in-car portable DVD player, a tablet with educational games, or a phone the kids can play on greatly reduces stress during long drives. Coloring books, wildlife search games, and toys such as Window Jammers are some non-electronic options to keep the little ones entertained. 
4. Camera's, Scopes, and Binoculars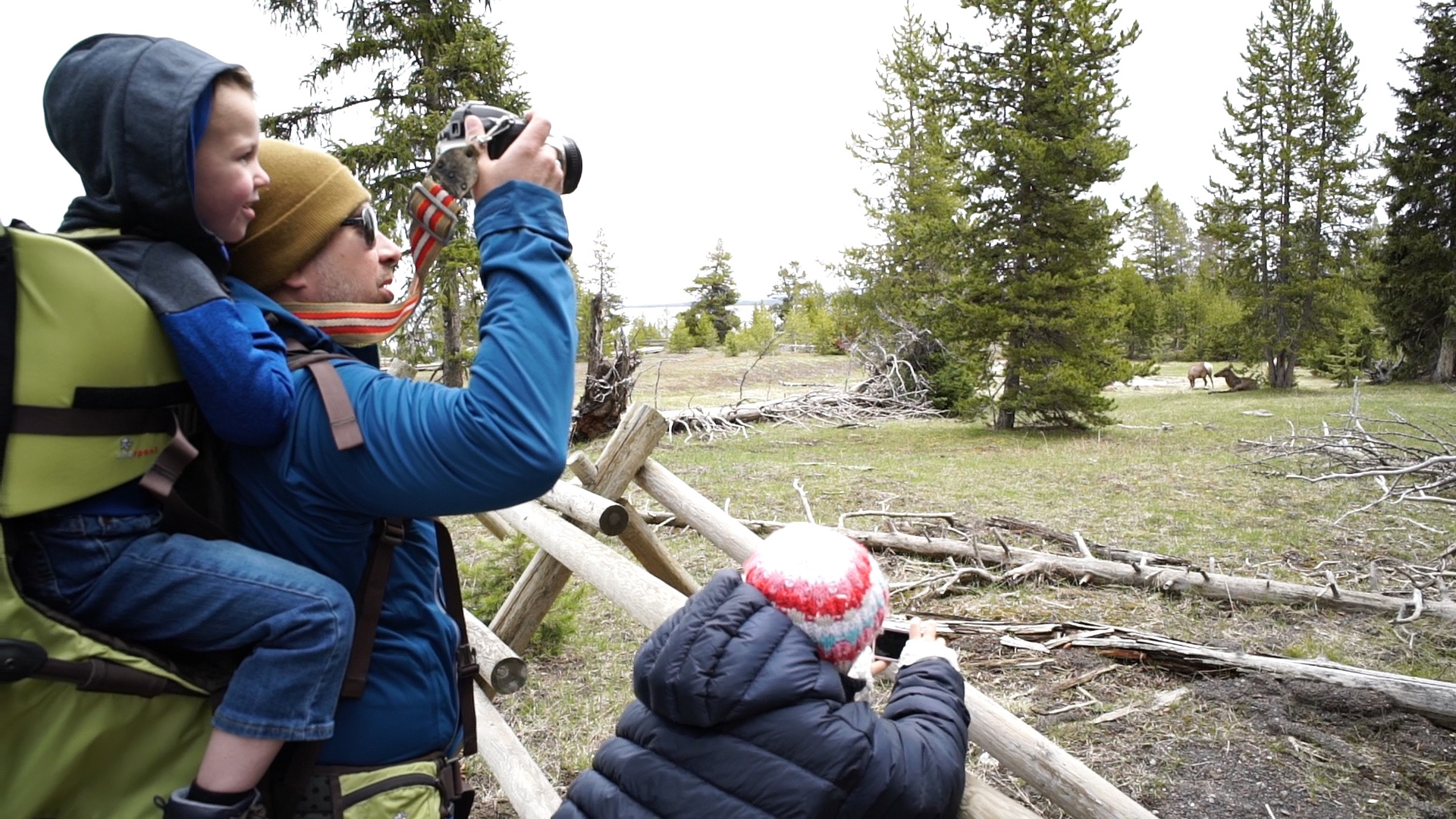 Photographing Elk in the distance at West Thumb Geyser Basin.
Kids love to be like their parents and take pics and spy through scopes and binoculars. We had an old digital camera we gave our 9-year-old to use and she snapped a million photos. Our 4-year-old wasn't so much into having his own camera, but we eventually sprung for some toy binoculars, or, "noculars" as he called them. He loved them and used them throughout the remainder of the trip.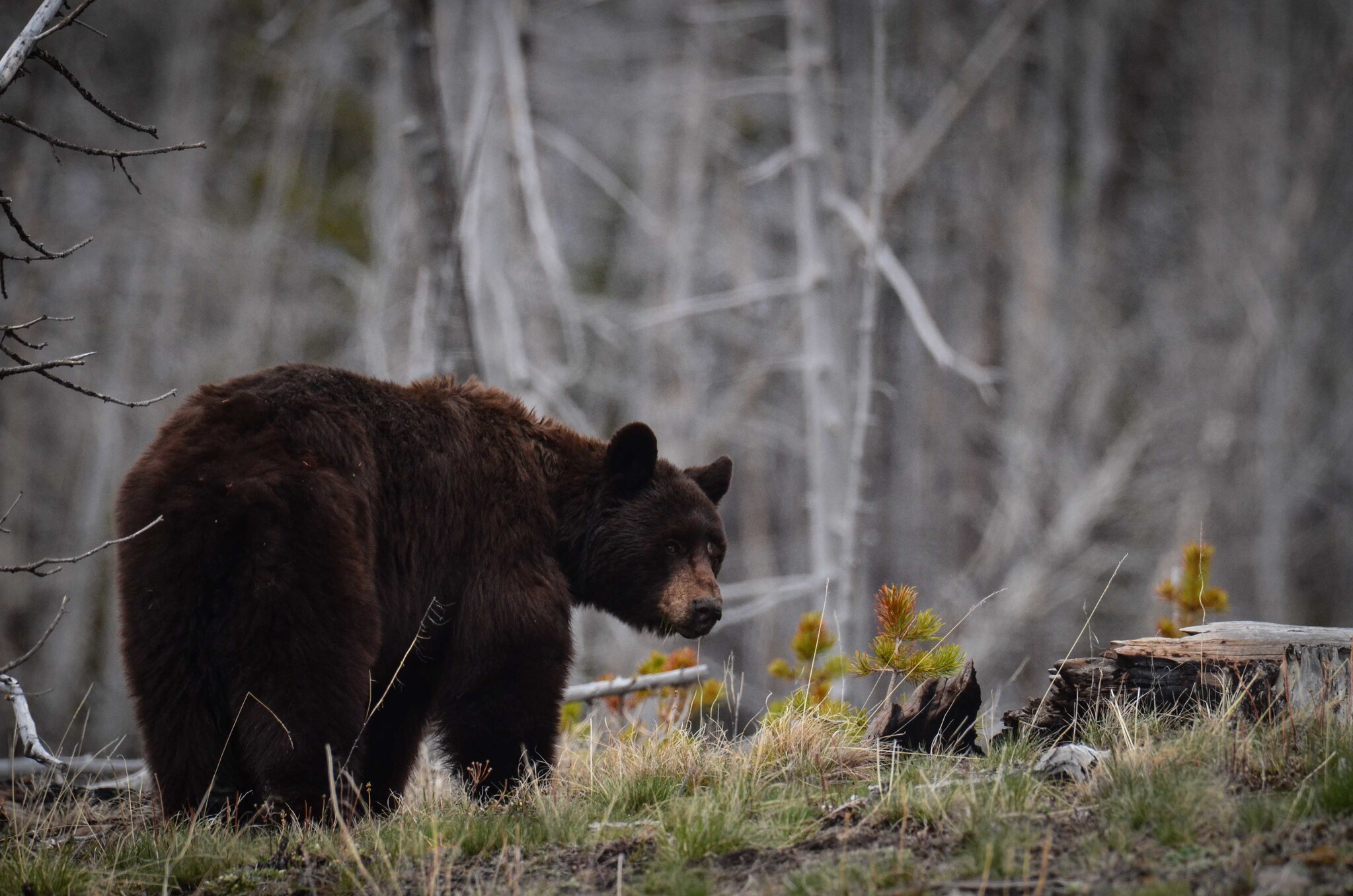 This bruin was photographed from across the street using a 600mm zoom lens. We kept a huge distance between us.
5. Kids Programs

Yellowstone offers a Junior Ranger Program as well as a Young Scientist Program for kids age 5 and up. Junior Ranger booklets are available at the Visitor Centers for just $3. After completing the requirements, kids can earn badges for their respective age and programs. 
6. Combine Bathroom Breaks with Short Hikes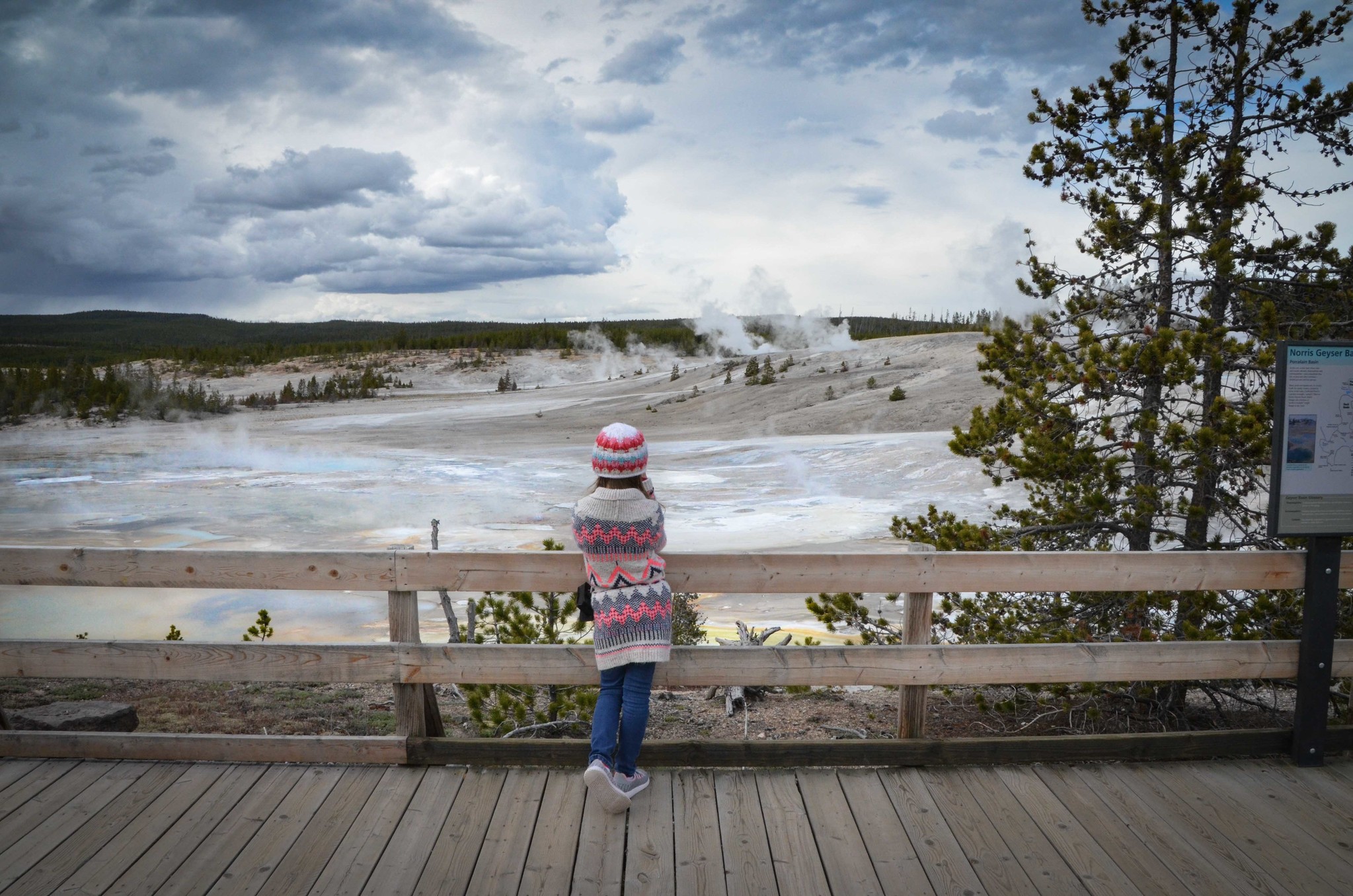 Overlooking Norris Geyser Basin
Taking many breaks throughout the day for short hikes, mini-picnics, photo-ops, and wildlife viewing is a great way to break up a long day in the park for kids. Most all the picnic areas and the hot pot areas with boardwalks (short hikes) have restrooms. Most bathrooms are pit-vault type bathrooms so the little ones may need some help. Park officials do a good job of keeping the pit bathrooms as clean and smelly-free as possible. Areas like Old Faithful, Canyon, Bridge Bay, Mammoth, and even Madison have bathrooms with running water. 
Combine short hike opportunities with reminders that, "everyone needs to try and go to the bathroom!" This helps avoid unexpected emergencies at inopportune times. 
7. Wildlife & Hotpot Safety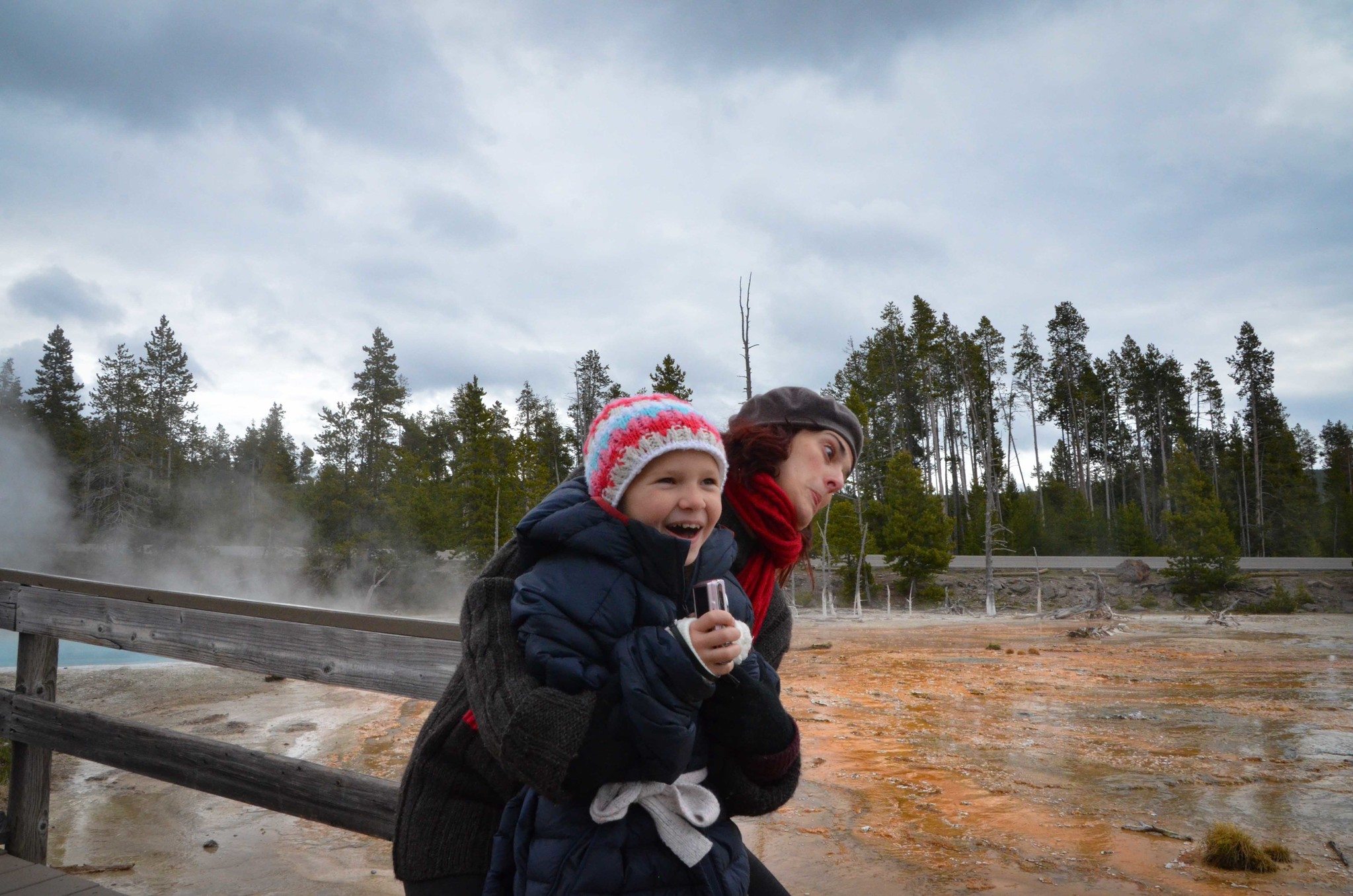 My sister on the boardwalk teasing my 9-year-old about not falling into the hot pot. It's all fun and games unless someone gets hurt. There was no immediate danger in this photo as the hot pot is further off the boardwalk than the image may depict.
Curiosity kills. Small children are unaware of the many inherent dangers within Yellowstone National Park. Wildlife, hydrothermal systems, and the sheer traffic of 3.8 million visitors all carry unique dangers that should be on every parents radar. 
For a good scare, pick up the book, "Death in Yellowstone" and read how dangerous the thermal features and the horrific deaths of the past, and you'll be sure to never let your kids run around and be crazy near the hot pots. Stay on the boardwalks at all times, and remind your children that the beautiful colors of the thermal features hide extreme danger.
Following Yellowstone's wildlife policy of keeping 100 yards away from bears and wolves, and 25 yards away from all other wildlife including bison which seem docile and pet-friendly. They are not.
Stay safe and have fun out there! 
-